After winning a title with the Warriors this season, veteran forward Nemanja Bjelica is headed back to Europe.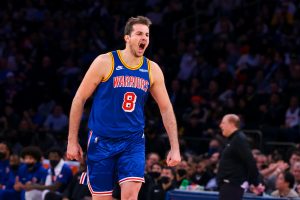 Bjelica has agreed to sign a two-year contract with Turkish powerhouse Fenerbahce, according to a report from Ugur Ozan Sulak of SocratesDergi.com (Twitter link). The deal will have a total net value of about $4MM, per Johnny Askounis and Aris Barkas of Eurohoops.
Golden State had been interested in re-signing Bjelica to a minimum-salary contract, according to Anthony Slater of The Athletic (Twitter link), but were informed today that he'd be leaving the NBA for one of his former teams overseas. Before he arrived in the NBA, Bjelica played for Fenerbahce for two seasons from 2013-15, earning EuroLeague MVP honors in '15.
After spending six NBA in Minnesota, Sacramento, and Miami from 2015-21, Bjelica joined the Warriors for his seventh season and made 71 regular season appearances for the club this past year, averaging 6.1 PPG, 4.1 RPG, and 2.2 APG with a .362 3PT% in 16.1 minutes per game.
Having won an NBA championship for the first time, the 34-year-old presumably liked the idea of returning to the EuroLeague, where he'll earn a similar salary and have a far more significant role.