The Nets have officially signed free agent wing Kessler Edwards to a new multiyear contract, the team announced today in a press release. Exact terms of the deal aren't yet known, but Michael Scotto of HoopsHype (Twitter link) reports that it's a two-year agreement with a second-year team option.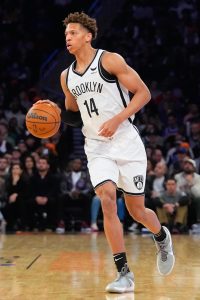 The 44th overall pick in the 2021 draft, Edwards spent most of his rookie year on a two-way contract, then was signed to a standard deal right before the end of the regular season in order to make him playoff-eligible.
Edwards showed promise in his first NBA season, averaging 5.9 points and 3.6 rebounds per game in 48 appearances (20.6 MPG). The former Pepperdine standout posted a .412/.353/.842 shooting line and even made 23 starts when the team's depth was impacted by injuries and COVID-19.
The Nets declined Edwards' minimum-salary player option last week in order to give him a qualifying offer and make him a restricted free agent. That QO was later rescinded, making him unrestricted, but it appears Brooklyn's interest in bringing back the former second-round pick never wavered.
The Nets have now signed or agreed to terms with three free agents in the last two days, having also struck deals on Tuesday with forward T.J. Warren and guard Edmond Sumner. The club now projects to have 13 of its 15 standard roster spots filled, though obviously trades involving Kevin Durant and/or Kyrie Irving could change that.