The Spurs have used a waiver claim to add Isaiah Roby to their roster, a source tells ESPN's Adrian Wojnarowski (Twitter link).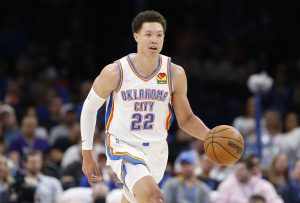 Veteran NBA reporter Marc Stein was the first to report (via Twitter) that there was a "strong expectation leaguewide" that Roby would be claimed on the waiver wire.
As Eric Pincus of Bleacher Report previously noted, Roby earned more than the minimum salary in the first year of his four-year contract with the Thunder, so the Spurs will have to use some of their cap space to absorb his $1,930,681 salary for 2022/23. Waivers claims are rare for non-minimum players, but Roby has shown some promise, so San Antonio will be taking a relatively cheap flier on him contributing next season.
In his third season with the Thunder in '21/22, the 6'8″ Roby averaged a career-best 10.1 PPG along with 4.8 RPG on .514/.444/.672 shooting in 45 games (21.1 MPG). Oklahoma City had previously picked up his club option, but then the Thunder waived him before his contract would have become fully guaranteed. Because his salary guarantee deadline was July 3, his $1.93MM will now be fully guaranteed.
The Spurs recently agreed to sign Gorgui Dieng and now added Roby, so clearly adding frontcourt depth was a priority with their final roster spots. Once all of San Antonio's first-round picks are signed to their rookie deals (only Blake Wesley has been signed thus far, but the other two should be formalities), the Spurs will tentatively have a full 15-man roster.
Even accounting for the new additions, the Spurs still have well over $30MM in cap room this offseason, so they have plenty of options to work with going forward.