JULY 6: Simons' new deal is now official, the Trail Blazers confirmed in a press release.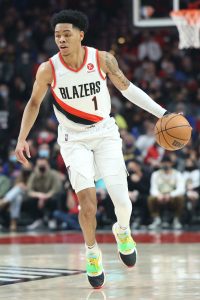 "Anfernee is already one of the league's top shooters and this past season he showed elite ability as a shot creator and distributor," GM Joe Cronin said as part of a larger statement. "We are excited for him to continue the growth he has shown in his first four seasons in Portland."
The team announced its new deal with center Jusuf Nurkic within the same release.
---
JUNE 30: The Trail Blazers and restricted free agent guard Anfernee Simons have agreed to a four-year contract worth $100MM, agent Bill Duffy tells Adrian Wojnarowski of ESPN (Twitter link).
Reports leading up to free agency suggested Simons would likely be in line for a deal worth $80MM over four years, so it appears he did better than anticipated. It's also possible that $100MM is the max Simons could earn on the new contract after incentives and the base value is lower.
Simons, who turned 23 earlier this month, had a breakout fourth season with Portland, posting career-highs in points (17.3), rebounds (2.6) and assists (3.9) in 57 games (30 starts, 29.5 minutes per night). He also had a very respectable .443/.405/.888 shooting line, good for a 58.3 true shooting percentage.
While Simons certainly earned a significant raise on the $3.9MM he made last season, there are some questions about how he might fit next to another ball dominant player like fellow guard Damian Lillard. Simons' emergence came on the heels of injuries to Lillard and CJ McCollum, who was later traded to New Orleans.
For example, Simons averaged 12.1 points, 2.4 rebounds and 2.0 assists on .426/.385/.935 shooting (55.1% true) in 27 games (24.1 minutes) as a reserve in 2021/22, versus 22 points, 2.8 rebounds and 5.5 assists on .452/.415/.871 shooting (60% true) in 30 games (34.3 minutes) as a starter. He functioned as the primary ball-handler while starting and thrived in the role.
Simons is an excellent athlete, but he's not very strong and has been a poor defender to this point in his career. Still, he's young and could improve with time.