JULY 6: The Trail Blazers have officially signed Payton, according to a press release from the team.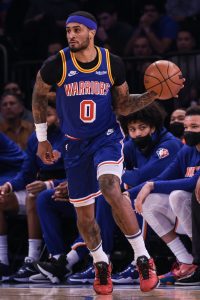 "We are excited to have Gary join us in Portland," general manager Joe Cronin said. "Gary brings an elite defensive acumen and championship pedigree that will be essential to how we play basketball. His competitiveness and toughness will accent Coach (Chauncey) Billups' style of play."
---
JULY 1: The Trail Blazers are finalizing a three-year contract agreement with free agent guard Gary Payton II, according to Shams Charania of The Athletic, who reports (via Twitter) that the deal is expected to be worth $28MM. It will include a player option and incentives, per Chris Haynes of Yahoo Sports (Twitter link).
Jake Fischer of Bleacher Report first reported that Portland was in hot pursuit of Payton with a deal believed to be worth in the range of $8MM annually. The price tag reported by Charania comes in a little higher than that, as the Blazers have apparently committed to using most of their non-taxpayer mid-level exception to sign the 29-year-old.
Payton, who has never signed an NBA contract worth more than the minimum salary, caught on as the Warriors' 15th man last fall, then secured a regular spot in the rotation, carving out a niche as a defensive stopper.
While most of Payton's value stems from his ability to slow down perimeter scorers, he had his best offensive season in 2021/22 too, chipping in 7.1 PPG in just 17.6 MPG and shooting an impressive 61.6% from the floor. He played a key role in the Warriors' championship run, returning from a fractured elbow in the NBA Finals to defend the likes of Jayson Tatum, Jaylen Brown, and Marcus Smart.
As Anthony Slater of The Athletic tweets, Golden State wanted to bring back Payton but was unwilling to match Portland's offer, which would have cost the Warriors exponentially more due to the subsequent luxury tax penalties.
Payton is on track to join a Portland team that has made it a priority this offseason to upgrade its defense and struck a deal last week to acquire forward Jerami Grant from Detroit. The Blazers were also linked earlier today to versatile free agent wing Bruce Brown, but he may be out of their price range now that they're using their MLE on Payton.