JULY 6: With the July moratorium over, the Trail Blazers and Pistons have officially completed the Grant trade, according to press releases from both teams.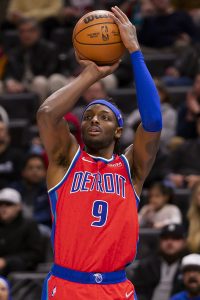 "Jerami Grant is a dynamic two-way forward that can impact winning at a high level," Blazers GM Joe Cronin said in a statement. "He fits seamlessly into Coach (Chauncey) Billups' system on both sides of the ball. We could not be happier to have him in Portland."
---
JUNE 22: The Pistons have agreed to trade forward Jerami Grant to the Trail Blazers, tweets Adrian Wojnarowski of ESPN.
In return, Detroit will receive the Bucks' 2025 first-round pick, which is top-four protected, according to Wojnarowski.
The teams will also swap second-round picks in this year's draft, with Detroit sending No. 46 to Portland in exchange for No. 36, sources tell Wojnarowski (Twitter link). Additionally, the Pistons will get their own 2025 second-round selection back from the Blazers, and Portland will send out either its own 2026 second-rounder or the Pelicans' '26 second-rounder (whichever is more favorable).
Portland will acquire Grant with the $21MM trade exception created in the CJ McCollum deal, and the Pistons will have about $43MM in cap space heading into free agency (Twitter link).
The Trail Blazers' pursuit of Grant dates back to at least the trade deadline, and they were able to add him while holding on to the No. 7 overall pick in Thursday's draft.
Grant averaged 19.2 points and 4.1 rebounds in 47 games this season and should help with Portland's desire to rebuild quickly after a down season. He became a focal point of the offense during the last two seasons in Detroit after playing more of a secondary three-and-D role during previous stops in Oklahoma City and Denver. While the 28-year-old won't be the go-to option in Portland, he should have an opportunity to be an important piece of the Blazers' lineup alongside Damian Lillard and RFA-to-be Anfernee Simons.
Grant has one year left on his current contract at $20.955MM. He's eligible for a veteran extension and the Blazers will likely pursue that possibility at some point before he reaches unrestricted free agency in 2023. Once the deal becomes official, Portland could only offer Grant up to $45.1MM for two years, but he'd become eligible for a four-year extension worth up to $112.7MM six months after the trade.