JULY 10: Looney's return to Golden State is official, the Warriors have announced in a press statement.
---
JULY 1: The Warriors are bringing back a key member of their championship roster, according to Adrian Wojnarowski of ESPN (Twitter link), who reports that that the team has agreed to a three-year, $25.5MM deal with center Kevon Looney.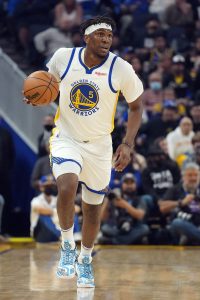 Looney enjoyed an impressive bounce-back year in 2021/22 after his previous two seasons were marred by injuries and a reduced role. He started 80 of Golden State's 82 regular season games and averaged 6.0 PPG, 7.3 RPG, and 2.0 APG in 21.1 minutes per contest while playing solid defense. His role remained steady in the postseason — he started just 13 of 22 games, but logged 20.4 MPG during the Warriors' title run.
The 26-year-old put a stamp on a sterling contract year with his play in the NBA Finals — in six games, the Warriors outscored the Celtics by 48 points when he was on the court and were outscored by 24 points when he sat.
According to Marc Stein (Twitter link), some rival teams believed Looney might return to Golden State on a three- or four-year deal worth $10MM per year, so bringing him back at $8.5MM annually looks like a good deal for the defending champions. Additionally, the third year is only partially guaranteed for $3MM, tweets Anthony Slater of The Athletic.
The Warriors still have some work to do on their roster after striking a deal with Looney. The team has lost a pair of key rotation players so far in free agency, with Otto Porter headed to Toronto and Gary Payton II on his way to Portland.
Golden State's projected tax bill figures to be a consideration as the team weighs its options with the taxpayer mid-level exception. According to Yossi Gozlan of HoopsHype (Twitter link), the Warriors have a projected tax bill of at least $120MM so far, and that number would rise significantly if the team uses its MLE.