Free agent guard David Duke Jr. will likely rejoin the Nets on his second two-way contract, sources tell Chris Milholen of NetsDaily.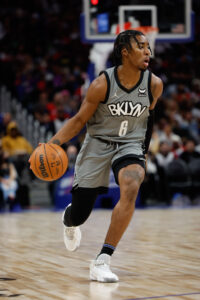 The Nets tendered a two-way contract offer to Duke earlier this summer. Duke had initially passed on the proposal and was reportedly eyeing a spot on Brooklyn's 15-man standard roster, but it sounds like he's prepared to accept the two-way offer.
Duke would be Brooklyn's second two-way player, joining former Wake Forest guard Alondes Williams. As Milholen notes, the 6'5″ guard will earn about $502K (half the rookie minimum) on the deal, and could have his two-way deal converted into a standard contract later on in the season.
After going undrafted out of Providence, Duke averaged 4.7 PPG, 3.0 RPG and 1.8 APG in 22 games with Brooklyn for the 2021/22 season. In Summer League play this year, he put up 19.0 PPG on 50% shooting, along with 4.6 RPG and 4.0 APG.
Duke's return to the fold would bring the total sum of Nets players to 15 ahead of training camp. The team has 12 players inked to fully guaranteed deals, along with the partially-guaranteed contract of Edmond Sumner and the aforementioned duo of two-way players.
Brooklyn can still sign up to five players to its 20-man offseason roster and is reportedly considering some veteran big men for bench depth.