The NBA has begun an investigation into the Knicks for possible tampering related to the team's free agent signing of Jalen Brunson, sources tell Chris Haynes of Yahoo Sports. According to Haynes, the league will attempt to determine whether New York made contact with Brunson before the free agent period started.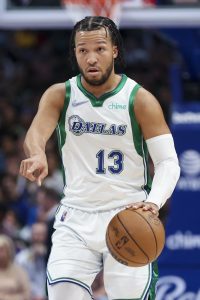 The Knicks signed Brunson to a four-year, $104MM contract last month. Days before free agency opened, word began to trickle out that Brunson was "widely anticipated" to sign with New York for a four-year deal exceeding $100MM, with multiple reports suggesting that the Mavericks had believed for weeks that the point guard was bound for the Knicks.
A June 29 report stated that Brunson planned to meet with the Knicks, Mavs, and Heat when free agency began, but the meetings with Dallas and Miami never took place, with the Heat disputing that they'd scheduled a sit-down at all with the former second-round pick.
We don't know exactly what happened behind the scenes, but the sequence of events created the impression that the Mavs and Heat knew Brunson would be joining the Knicks and didn't want to waste their time, while the guard's camp was trying to create the impression that a final decision hadn't yet been made.
It's not unusual for free agents' presumed destinations to leak before the negotiating period officially begins on June 30. However, it raises eyebrows in the league office when the details of a rival team's offer to a free agent leaks days in advance and there's a publicly-reported widespread belief that the player will join that team. The Sixers are facing a similar investigation due to their free agency moves, including a contract agreement with P.J. Tucker that leaked early.
Brunson's case is further complicated by the fact that he has personal relationships with so many people within the Knicks' organization. Leon Rose represented Brunson as a player agent before he joined New York's front office, and his son Sam Rose is now one of Brunson's reps at CAA. Rick Brunson, Jalen's father, was hired by the Knicks as an assistant coach several weeks before free agency began.
While the NBA has ostensibly made more of an effort to penalize teams for violations related to tampering and free agency gun-jumping in recent years, it's not as if Brunson's contract with the Knicks is in any danger of being voided.
The Bulls, Heat, and Bucks have all been penalized for similar free agency violations since 2020, and all three teams were forced to forfeit a future second-round pick. It will be surprising if the Knicks face a stiffer penalty than that once the investigation into their contact with Brunson is complete.
It will likely take some time for the NBA to announce the results of its probe. Last year, the investigation into the Heat and Bulls was reported on August 7 and the penalties weren't announced until December 1.