The Celtics have officially announced in a press release (Twitter link) that they have suspended head coach Ime Udoka for the entirety of the 2022/23 NBA season, as had been expected. Ominously, the club also announced that it will decide Udoka's long-term fate with the franchise "at a later date."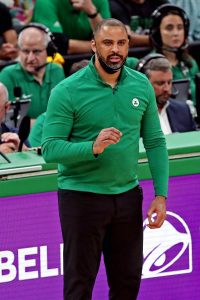 Udoka, who is engaged, reportedly had a consensual affair with a female Celtics staffer, which has been determined to be a violation of Boston's "organizational guidelines." Udoka issued a statement expressing remorse for his actions, as Malika Andrews of ESPN relays (via Twitter).
"I want to apologize to our players, fans, the entire Celtics organization, and my family for letting them down," Udoka said. "I am sorry for putting the team in this difficult situation, and I accept the team's decision. Out of respect for everyone involved, I will have no further comment."
As had been previously reported, Boston will elevate assistant coach Joe Mazzulla to the role of interim head coach, Adrian Wojnarowski of ESPN tweets.
Mazzulla previously served as an assistant coach with the team's NBAGL affiliate, then called the Maine Red Claws, during the 2016/17 season. He has been a Boston assistant since 2019, when the Celtics were still led on the sidelines by Stevens.
Whether or not Udoka actually remains in Boston following his suspension remains somewhat up in the air. A source informs Chris Mannix of Sports Illustrated (via Twitter) that there is a chance Udoka will ultimately not be permitted to return to the team as coach.
Udoka was known as one of the league's top assistants over much of the last decade. He was hired for his first head coaching gig with the Celtics last summer following stints in San Antonio, Philadelphia, and Brooklyn. In what may have been his lone year with the club, Udoka led Boston to a 51-31 record and an NBA Finals berth, finishing fourth in Coach of the Year voting.
Fielding a similar roster in 2020/21 while being coached by current team president Brad Stevens, the Celtics had gone just 36-36, earning the No. 7 seed in the East and suffering a first-round playoff elimination.