SEPTEMBER 26: McCollum's extension is now official, according to Pelicans head of basketball operations David Griffin, who praised the veteran guard for "taking less money in his extension to keep this group together" (Twitter links via Andrew Lopez of ESPN and Christian Clark of NOLA.com).
---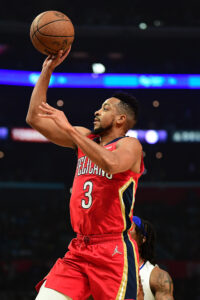 SEPTEMBER 24: The Pelicans and CJ McCollum have reached an agreement on a two-year extension valued at $64MM, writes Adrian Wojnarowski of ESPN. This deal, which was confirmed by McCollum's agent, Sam Goldfeder of Excel Basketball, will run through the end of the 2025/26 season.
McCollum made an immediate impact in New Orleans after being acquired from the Trail Blazers in February. He averaged 24.3 points, 4.5 rebounds and 5.8 assists per game as the Pelicans stormed back from a slow start and earned a spot in the play-in tournament. He was equally effective in the playoffs as New Orleans took the top-seeded Suns to six games in their first-round matchup.
The 31-year-old shooting guard is part of what looks to be a strong foundation that could keep the Pelicans in playoff contention for the next few years. Brandon Ingram provides another consistent scoring threat, and the return of Zion Williamson could round out one of the league's most dangerous offenses.
All three players are now under contract for the next three seasons, notes Christian Clark of NOLA.com (Twitter link).
The extension was a priority for Pelicans senior vice president of basketball operations David Griffin and general manager Trajan Langdon, Wojnarowski adds. They were impressed by the way McCollum was able to transform the team with his production and leadership after the trade.
McCollum was a fixture in Portland after being selected with the 10th pick in the 2013 draft. He spent eight and a half seasons with the Blazers and ranks fifth on the team's career scoring list.
McCollum will earn $33.3MM this season and $35.8MM in 2023/24 before the new extension takes effect.