Bulls guard Lonzo Ball continues to experience pain and discomfort in his surgically repaired left knee and is expected to miss training camp, sources tell Jamal Collier and Ramona Shelburne of ESPN. According to ESPN's duo, he's also considered doubtful for the start of the 2022/23 regular season, which begins on October 18.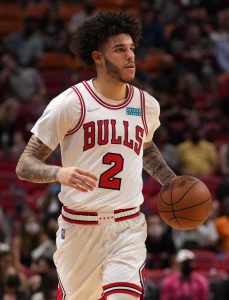 Ball had surgery in January for a torn meniscus and was originally expected to return before the end of last season. However, a bone bruise interfered with his rehab process, and unfortunately it appears as though it might still be impacting his recovery.
According to ESPN's duo, Ball has seen "multiple specialists" in an effort to determine the cause of the lingering pain and discomfort, and to seek possible treatments. A source tells Collier and Shelburne that Ball's knee is "structurally sound," but he continued to struggle with the knee this summer while rehabbing in Los Angeles.
Ball will be evaluated by team doctors in Chicago next week, per ESPN.
The Bulls have been vague regarding Ball's status throughout the offseason, with coach Billy Donovan and executive VP of basketball operations Arturas Karnisovas saying that he was "progressing" back in July, but they did concede that his recovery was going slower than they'd hoped, and evidently that's still the case.
K.C. Johnson of NBC Sports Chicago recently said on the Bulls Talk podcast that the team appeared to be a bit more optimistic about the 24-year-old lately, though he cautioned that the situation remained fluid.
"I'm not saying that means he's out there opening night. I'm not saying he's playing all 82," Johnson said. "What I'm saying is the skepticism that was earlier in the offseason has moved a little bit toward the optimism side."
It sounds as though Johnson's report is right on the money, with Ball's status for the season opener very much in jeopardy.
Ball had a major impact on the Bulls when he was healthy last season, averaging 13.0 points, 5.4 rebounds, 5.1 assists and 1.8 steals while shooting 42.3% from three-point range and playing strong defense in 35 games (34.6 minutes).
As Collier and Shelburne note, the Bulls were 27-13 when Ball played his last game on January 14, but faltered down the stretch, going just 19-23 the rest of the way before losing their first-round playoff series against Milwaukee.