It has already been a relatively busy offseason for rookie scale contract extensions. Grizzlies guard Ja Morant, Cavaliers guard Darius Garland, and Pelicans forward Zion Williamson all signed five-year, maximum-salary extensions in July, and Spurs swingman Keldon Johnson, Knicks forward RJ Barrett, and Heat guard Tyler Herro have since inked their own deals below the max.
[RELATED: 2022/23 NBA Extension Tracker]
That's six of 25 rookie scale extension candidates who already have new contracts in place for 2023/24 and beyond. A seventh 2019 first-rounder, guard Ty Jerome, was traded from Oklahoma City to Houston and was subsequently waived. That leaves 18 players still eligible to sign rookie scale extensions before this year's deadline.
The deadline to sign a rookie scale extension in 2022 is October 17 – the day before the regular season tips off – at 5:00 pm CT. And even though several players from the 2019 draft class have already been extended, it's a safe bet that more will follow. Last year, for instance, five players signed rookie scale extensions on deadline day.
Here's a quick breakdown of the remaining extension-eligible players:
---
Top extension candidates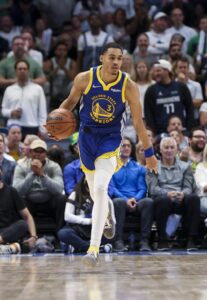 Every player in this group has shown enough to warrant a multiyear commitment and an eight-figure annual salary.
Poole and Williams played key roles for the two clubs that met in the NBA Finals in the spring, while Johnson did the same for a Suns team that came within two wins of a title in 2021.
Hunter and Washington have each made more than 130 career starts and displayed solid two-way value. Clarke has been a regular rotation piece for a Grizzlies squad that ranked second in the league in regular season wins last season.
Not all of these players will be extended by October 17, but I'd expect all six teams to at least attempt to negotiate extensions. Of the six, Poole has the best case to command a salary near the max (projected to be approximately $150MM across four years). Some other players in this group could get less than half that amount and still be doing well.
Wild cards
It wouldn't be a huge surprise to see any of these six players sign an extension in the next 10 days, but there are some question marks to consider.
Have the Wizards seen enough from Hachimura, who has missed time in each of his three seasons due to injuries, to consider him a long-term piece?
Will the Blazers commit to Little based on what was essentially a seven-week run last season as a productive starter?
Are the Rockets confident that the character concerns that ended Porter's stint in Cleveland are behind him?
Do the Sixers believe Thybulle's defensive abilities make up for his offensive shortcomings?
Are Hayes and White high enough on the pecking order in New Orleans and Chicago, respectively, to warrant extensions?
Of these six, I view Little, Porter, and Thybulle as the most likely extension candidates.
Unlikely to be extended
Alexander-Walker, Langford, and Reddish were all traded during the 2021/22 season and didn't establish themselves as must-extend players during their short stints with their new teams.
Bazley isn't a lock to make the Thunder's regular season roster, let alone sign a long-term extension, and Bitadze and Windler have played limited roles since entering the NBA, so it doesn't make sense to extend them unless they're willing to accept a bargain-basement price.
It's too early to say that these players won't remain with their current teams beyond 2023/24, but they'll likely have to prove their value on the court this season before they sign new contracts.