4:13pm: The Grizzlies have officially confirmed Adams' extension (via Twitter).
---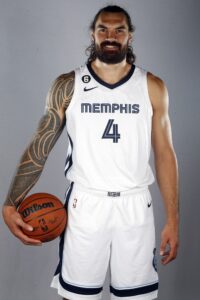 4:07pm: Starting center Steven Adams is signing a two-year, $25.2MM extension with the Grizzlies, his agent Darren Matsubara tells ESPN's Adrian Wojnarowski (Twitter link).
Adams will earn $17.9MM in 2022/23, so he'll actually receive a $5.3MM decrease in annual pay on his new deal with Memphis, which will kick in starting in '23/24. Wojnarowski calls Adams "an immense culture piece" for a young Grizzlies squad who won 56 games last season.
Despite playing just 26.3 minutes per night in '21/22, a relatively low average for a starter, Adams led the league in total offensive rebounds (349) and offensive rebounding percentage (17.9%), pulling down an average of 4.6 offensive boards per contest in his first season with Memphis. He's also one of the league's strongest players and a bone-crushing screener.
While injuries have sapped some of Adams' athleticism in recent years, he has evolved his game to adapt. He averaged career-highs of 10.0 rebounds and 3.4 assists per game last season, the latter an increase of 1.1 over his previous best.
The Grizzlies take advantage of Adams' passing by running a lot of plays through him in the high post and elbows, using his strength and screening to free the backcourt of Ja Morant and Desmond Bane for open looks. The 29-year-old native of New Zealand is still a solid defender, though not quite as versatile on the perimeter as he once was.
Adams was acquired by Memphis last August as part of the complicated three-team deal that sent Jonas Valanciunas to New Orleans, with multiple draft picks changing hands as well.
In 664 career games with the Thunder, Pelicans and Grizzlies, including 599 starts, Adams holds averages of 9.3 points, 8.0 rebounds, 1.5 assists in 26.8 minutes per night. His career field goal percentage (.587) is the eighth-highest mark in league history, the team notes. Adams also has seven seasons of playoff experience, which is undoubtedly valued by a Memphis team hoping to win its first title.