6:28pm: Miami has officially announced Herro's four-year extension.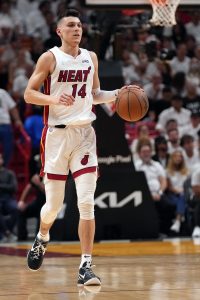 "Tyler is an impact multi-faceted player and we are excited to have him signed for the next five years," Heat president Pat Riley said in a statement. "His improvement every year since we drafted him has led to this day. We believe he will continue to get better."
---
5:31pm: The Heat have agreed to a four-year, $130MM contract extension with star guard Tyler Herro, his agents tell ESPN's Adrian Wojnarowski (Twitter link). Anthony Chiang of the Miami Herald relays (via Twitter) that $120MM is guaranteed, while the other $10MM can be earned via incentives. Herro's extension will begin in 2023/24.
With the deal, Miami now has both of its young stars, Herro and Bam Adebayo, under contract long-term. The team has a healthy blend of young players and veterans and is expected to once again compete for a title this season.
Herro averaged 20.7 points, 5.0 rebounds and 4.0 assists per game last year, winning the NBA's Sixth Man of the Year award. He'll likely make a strong case in training camp for starting this season.
Herro is entering his fourth season with Miami. Last season was his best campaign since being drafted No. 13 overall by the team in 2019. At just 22 years old, he has ample time to continue improving and establish himself as a cornerstone piece for the Heat.
Miami had until opening night to reach an extension with Herro, otherwise, he would've reached restricted free agency next summer. He previously said he wouldn't sign for anything he believes is less than his market value.
"I want to be here. I want to be in Miami," Herro said. "But I'm not rushed to sign anything. It's got to make sense for me and my family. I'm not just going to sign anything. I see the market, I see what guys got paid and I know my worth. So I'm looking for the right number."