9:30pm: "I know that you all are surprised by today's announcement," Primo said in a statement to ESPN's Adrian Wojnarowski (via Twitter). "I've been seeking help to deal with previous trauma I suffered and will now take this time to focus on my mental health treatment more fully. I hope to be able to discuss these issues in the future so I can help others who have suffered in a similar way. I appreciate privacy at this time."
---
6:32pm: In an absolutely stunning move, the Spurs announced that they have waived second-year guard Joshua Primo, the No. 12 overall pick of last year's draft (Twitter link via Andscape's Marc J. Spears).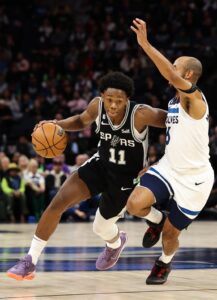 "It is our hope that, in the long run, this decision will serve the best interest of both the organization and Joshua," said Spurs Sports & Entertainment CEO RC Buford.
"The Spurs organization, including front office executives, coaching staff and players, will have no additional comments to share at this time."

When asked about releasing Primo prior to Friday's game against the Bulls, head coach Gregg Popovich declined to elaborate, per Tom Orsborn of The San Antonio Express-News (Twitter link).
Primo, 19, averaged 5.8 points, 2.3 rebounds and 1.6 assists in 50 games (16 starts, 19.3 minutes) as a rookie last season, but struggled with efficiency, posting a .374/.307/.746 shooting slash line. He was the youngest player drafted last year and won't turn 20 years old until December.
Through four games this season (23.3 minutes), Primo is averaging 7.0 points, 3.3 rebounds and 4.5 assists on .346/.250/.778 shooting.
The Spurs exercised their 2023/24 team option on Primo a couple weeks ago, so he will earn a guaranteed $4.1MM this season and $4.3MM in '23/24. Unless he's claimed on waivers, San Antonio will be on the hook for both of those figures over the next two seasons.
As ESPN's Bobby Marks tweets, a rival team could claim Primo using cap room or an exception, but obviously would have to be pretty confident about what transpired given he was so abruptly cut. According to ESPN's Adrian Wojnarowski (Twitter link), the Spurs had been "excited" about Primo's development and future.
"Joshua has an uncanny maturity about him, kind of a steady demeanor," Popovich said in January. "He is not awed by the NBA or anything like that. He makes good decisions. He definitely knows how to play. It's just a matter of getting stronger and aware that these are men and they are coming after your head, so to speak. He just has to get used to that physicality and all that sort of thing."
Many NBA executives are scrambling to get to the bottom of what might have prompted the Spurs to waive last year's lottery pick, especially after already guaranteeing his salary for next season.
"He's a talent," one executive texted Chris Mannix of Sports Illustrated (Twitter link). "Everyone is trying to find out what the hell happened."
Prior to releasing him, the Spurs had listed Primo as out due to left glute soreness for Friday's contest, as Tim MacMahon of ESPN relays (via Twitter).
Primo, a native of Ontario, Canada, spent one year at Alabama prior to turning pro.