Coach Billy Donovan signed an extension with the Bulls before the season began, according to Shams Charania of The Athletic.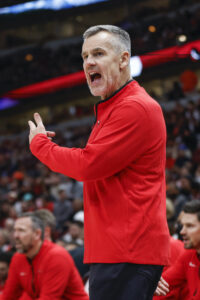 Donovan had two years remaining on his current deal when he negotiated the extension during the offseason. Charania doesn't provide details of the extension, but he writes that Donovan is now under contract "for several more years."
Chicago is just 86-88 under Donovan, but the team has shown steady progress since he became head coach. The Bulls were coming off a 22-win season when he was hired in 2020. They went 31-41 in Donovan's first season, then improved to 46-36 and reached the playoffs for the first time in five years.
Charania points out that Chicago was among the league's best teams last season before Lonzo Ball's knee injury in January. Through January 1, the Bulls were fifth in the league in offense and 10th in defense and they held the best record in the East for much of that time.
The team is currently 8-10 as Ball remains sidelined after another surgical procedure on his left knee in September. Sources tell Charania that Ball and the team remain hopeful that he can return sometime in the new year.
The 57-year-old Donovan came to the NBA in 2017 after winning two NCAA championships at Florida. He compiled a 243-157 record as head coach in Oklahoma City, which was a playoff team in all five seasons he spent there.