5:53pm: Both moves are official, according to a team press release.
---
10:44am: The Heat are making a minor change to their roster, according to Ira Winderman of The South Florida Sun Sentinel, who reports (via Twitter) that the team will waive two-way player Dru Smith and sign Orlando Robinson to a two-way contract to fill the newly opened spot.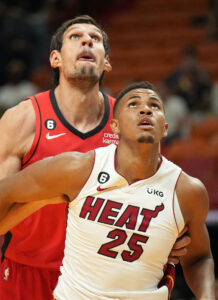 Both Smith and Robinson were in training camp with the Heat this fall. Smith earned a two-way spot at the end of the preseason, while Robinson was waived and eventually became an affiliate player for the Sioux Falls Skyforce, Miami's G League team.
However, with center Omer Yurtseven expected to miss a significant chunk of the 2022/23 season due to ankle surgery, the Heat have a greater need in the frontcourt than on the wing. Robinson is a center; Smith is a shooting guard.
Miami does have an open spot on its 15-man standard roster and could sign a more experienced center to fill that opening, but doing so would put team salary above the luxury tax threshold for the season. Two-way contracts don't count against the cap or tax.
Robinson, 22, went undrafted out of Fresno State earlier this year. The big man averaged 19.4 PPG, 8.4 RPG, and 2.9 APG on .484/.352/.716 shooting in 36 games (33.2 MPG) as a junior in 2021/22. He has gotten off to a strong start for the Skyforce this season, putting up 20.0 PPG, 9.3 RPG, and 2.5 APG in four starts (31.3 MPG).
Smith, who went undrafted in 2021 and played for Sioux Falls as a rookie, made his NBA debut last month, logging six minutes of garbage time during a blowout win over Portland on October 26. It was the only game he played in for the Heat.
Jamal Cain occupies Miami's other two-way slot and should be unaffected by the Heat's roster moves.