Heat second-year center Omer Yurtseven, who injured his ankle during Miami's first preseason game and has yet to make his regular season debut in 2022/23, is facing an "extensive" recovery timeline, writes Ira Winderman of The South Florida Sun Sentinel.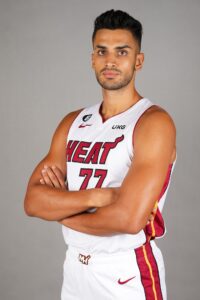 According to Winderman, there's a chance Yurtseven might miss the entire season if he opts to undergo surgery, but even if he takes the non-surgical route, he'll likely be out for an extended period. The Turkish big man is an impending restricted free agent, so surgery might be the safer choice to preserve his long-term health, Winderman writes.
The Heat have been listing Yurtseven as out with a left ankle impingement, but a source familiar with the injury tells Winderman that it appears to be a bone spur that's been so problematic for the 24-year-old. Yurtseven continues to seek opinions on the exact nature of the injury, Winderman adds.
The injury wasn't initially believed to be serious, yet it has continued to bother Yurtseven.
"They said structurally [it's fine]," Yurtseven said last month. "I went to like five different doctors just to make sure everything was fine just to double, triple and quadruple check."
Just a couple of weeks ago, Yurtseven was traveling with the team while rehabbing the ankle and hoped to return to action within a week. Obviously, that has not happened.
"I think I'm going to be back in less than a week, hopefully," Yurtseven said at the time. "But I've got to sacrifice and I've just got to take the pain that comes with it, and that's what I'm going to do. But hopefully sooner rather than later. But less than a week is my hope."
As Winderman observes, because the Heat are so close to the luxury tax line, even if Yurtseven were to undergo surgery and be ruled out for the season, and the Heat were subsequently granted a disabled player exception, they still wouldn't be able to add a 15th man without going into the tax.
Yurtseven was very productive when given playing time as a rookie last season. During one 10-game stretch as a starter with Bam Adebayo sidelined, he averaged 13.6 points, 13.5 rebounds, 2.9 assists and 1.0 steal in 30.9 minutes per contest. Head coach Erik Spoelstra had said he planned to experiment with lineups featuring both Adebayo and Yurtseven prior to the injury.