11:53am: Vaughn's promotion to permanent head coach comes with a deal through the 2023/24 season, according to Adrian Wojnarowski of ESPN (Twitter link).
---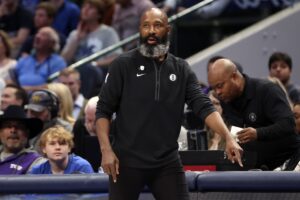 11:15am: The Nets have named Jacque Vaughn as their head coach, the team announced today in an official press release. Vaughn had been the team's acting head coach since Steve Nash's exit from the franchise, so today's announcement essentially removes the interim tag from his title.
"Jacque's basketball acumen, competitiveness and intimate knowledge of our team and organization make him the clear-cut best person to lead our group moving forward," general manager Sean Marks said in a statement. "He has a proven ability to get the best out of our players, hold them accountable and play a cohesive, team-first style of basketball."
The news is particularly notable because it signals that Brooklyn isn't moving forward with its rumored plan to hire Ime Udoka away from the Celtics. Udoka, who is serving a one-year suspension in Boston for sending crude messages and engaging in a relationship with a female subordinate, emerged as the frontrunner to replace Nash last week.
However, the Nets were said to still be going through the vetting process on Udoka and reportedly received push-back from some "strong voices," including from some of the female staffers within the organization.
It's unclear if Udoka could still reemerge a candidate for Brooklyn at some point down the road or if the vetting process removed him from the team's radar entirely — either way, it sounds as if Vaughn will coach the Nets for at least the rest of the 2022/23 season, and potentially beyond that.
A former NBA guard, Vaughn transitioned into coaching following his retirement as a player, initially serving as an assistant on Gregg Popovich's staff in San Antonio. He was hired as the Magic's head coach in 2012, but posted a dismal 58-158 (.269) record during two-and-a-half seasons in that role.
Vaughn was an assistant for the Nets from 2016-22, briefly serving as the team's interim coach after Kenny Atkinson was let go in 2020. He guided the Nets to a 7-3 record at that time and has led the club to a 2-2 mark since replacing Nash last week.
Naming Vaughn the full-time head coach should smooth out one area of instability in Brooklyn, but there are other issues to resolve. Vaughn will be tasked with trying to help turn things around for Ben Simmons, who has looked like a shadow of his former self since returning from a season-long absence, and the Nets will still have to determine whether to reinstate Kyrie Irving following his suspension.