The NBA has suspended Lakers point guard Patrick Beverley for three games without pay, the league announced today in a press release (Twitter link).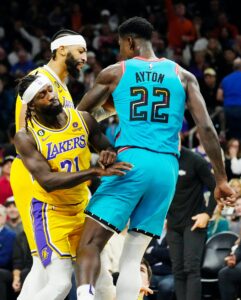 As we detailed on Wednesday, Beverley shoved Suns center Deandre Ayton in the back while the Phoenix center was standing over Lakers guard Austin Reaves during the fourth quarter of Tuesday's 115-105 Suns victory. This led to a brief on-court fracas between the two clubs. Beverley was instantly ejected, while Ayton was assessed with a technical foul.
According to the NBA's announcement, the suspension was "based in part on Beverley's history of unsportsmanlike acts."
Back when he was a member of the Clippers, Beverley shoved Suns point guard Chris Paul in the back during a stoppage in play in Game 6 of the 2021 Western Conference Finals. He received a one-game suspension for that incident.
Beverley's teammates and head coach Darvin Ham defended him after Tuesday's game and gave him credit for standing up for a teammate, but there was a sense that a suspension could be in play. Ham told reporters that Beverley would likely "go through some type of consequence" for his actions, while the veteran guard said he was prepared to "take my lumps however they come."
As Bobby Marks of ESPN tweets, the three-game suspension will cost Beverley $89,655 per game (1/145th of his $13MM salary), for a total of $268,966. The Lakers will receive half that amount (a total of $134,483) as a tax variance credit, Marks notes, saving them a little money on their end-of-season bill.
Beverley has struggled offensively during his first season as a Laker. The 34-year-old is averaging 4.1 PPG on .266/.238./824 shooting splits.