DECEMBER 16: Cunningham underwent season-ending surgery on Friday, according to the Pistons, who said in a press release today that the procedure will "stabilize and promote complete healing of a left tibial stress fracture."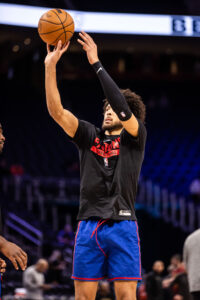 The former No. 1 overall pick is expected to return to full basketball activities in the 2023 offseason, per the team.
---
DECEMBER 12: Pistons second-year guard Cade Cunningham, the No. 1 pick in the 2021 draft, has opted for season-ending shin surgery, Adrian Wojnarowski of ESPN reports.
Cunningham appeared in just 12 games this season and hasn't played since Nov. 9. At that time, the team described his injury as left shin soreness.
Cunningham sat out for over a month, hoping that rest and rehabilitation would solve the problem. He consulted with multiple doctors in recent weeks and ultimately decided – with the Pistons and his representatives at Excel Sports – to undergo the season-ending procedure. He's expected to be fully recovered by next season's training camp.
It's a major setback for a team in the midst of a major rebuild. General manager Troy Weaver has accumulated six first-round picks over the last three seasons, with Cunningham being the crown jewel. The team was hoping Cunningham and this year's No. 5 pick, point guard Jaden Ivey, could develop chemistry this season with the expectation of a playoff push next season. They could still develop into one of the league's top backcourts but Cunningham's injury will delay that possibility.
The franchise is bound for another high lottery pick and is a major contender in the Victor Wembanyama sweepstakes. The Pistons have a 7-22 record and figure to have one of the league's worst records with their franchise player out of action.
Cunningham was averaging 19.9 points, 6.2 rebounds and six assists in 12 games this season. He got off to a slow start during his rookie season after suffering an ankle injury during training camp. He came on strong during the second half of the season and finished third in the Rookie of the Year voting behind Scottie Barnes and Evan Mobley.
Cunningham wound up averaging 17.4 points, 5.5 rebounds and 5.6 assists last season, including 21.1 points, 5.7 rebounds and 6.5 assists in the second half.
The Pistons will now focus of the development of their other young players this season.
Ivey is off to a relatively strong start in his rookie campaign, averaging 15.3 points and 4.0 assists. Third-year guard Killian Hayes, who was part of Weaver's first draft class, has shown some improvement while receiving steady playing time in Cunningham's absence. He's averaging 8.1 points, 5.1 assists and 1.1 steals, though it's uncertain whether the front office views him as part of the long-term picture.
With Cunningham out, the team's brass may be more inclined to trade veterans such as top scorer Bojan Bogdanovic and guard Alec Burks.