Suns shooting guard Devin Booker and Celtics forward Jayson Tatum have been named the NBA's players of the month for the Western and Eastern Conferences, respectively, the league announced today (via Twitter).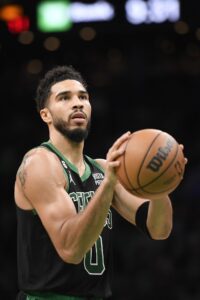 All of the initial monthly awards combined the statistics from October and November, since October was an abbreviated month (the regular season started on the 18th).
Booker led the Suns to a 15-6 record over the past six weeks, the No. 1 seed in the West. Through 21 games (36.5), he's averaging 29.0 PPG, 5.3 RPG, 5.8 APG and 1.1 SPG on .489/.378/.878 shooting.
The 26-year-old is coming off Wednesday's spectacular performance against Chicago, in which he scored 51 points on 20-of-25 shooting — including 6-of-7 from three and 5-of-6 from the line — in only three quarters of action in the blowout victory.
Tatum led the Celtics to an NBA-best 18-4 record through November, the No. 1 seed in the East. Through 21 games (36.7 MPG), he's averaging 31.6 PPG, 7.8 RPG, 4.5 APG and 1.1 BPG on .488/.366/.873 shooting.
The 24-year-old had his own incredible performance in Wednesday's victory over Miami, recording season-high 49 points on .600/.667/.917 shooting splits.
According to the NBA (Twitter links), the other nominees in the West were Stephen Curry, Anthony Davis, Luka Doncic, De'Aaron Fox, Jerami Grant, Anfernee Simons, Shai Gilgeous-Alexander, Nikola Jokic and Ja Morant, while Giannis Antetokounmpo, OG Anunoby, DeMar DeRozan, Kevin Durant, Joel Embiid, Tyrese Haliburton, Myles Turner, Donovan Mitchell and Franz Wagner were nominated in the East.