The Knicks will lose their own second-round pick in the 2025 draft as a penalty for violating NBA rules governing free agency, the league announced today (via Twitter).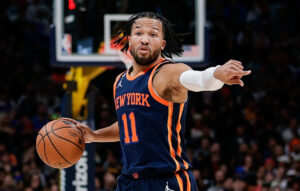 "This outcome reflected a finding, following an investigation, that the Knicks engaged in free agency discussions involving Jalen Brunson prior to the date when such discussions were permitted," the NBA said in its statement, adding that the team "fully cooperated" with the investigation.
The Knicks were one of two teams investigated this year for possible free agency gun jumping after they signed Brunson to a four-year, $104MM contract in July. Days before free agency opened, word began to trickle out that Brunson was "widely anticipated" to sign with New York for a four-year deal exceeding $100MM, with multiple reports suggesting that the Mavericks had believed for weeks that the point guard was bound for the Knicks.
It's not unusual for free agents' presumed destinations to leak before the negotiating period officially begins on June 30. However, it raises eyebrows in the league office when the details of a rival team's offer to a free agent leaks days in advance and there's a publicly reported widespread belief that the player will join that team.
Brunson's case was complicated further by the fact that he had personal relationships with so many people within the Knicks' organization. President of basketball operations Leon Rose represented Brunson as a player agent before he joined New York's front office, and his son Sam Rose is one of Brunson's reps at CAA. Rick Brunson, Jalen's father, was hired by the Knicks as an assistant coach several weeks before free agency began.
According to Steve Popper of Newsday (Twitter link), besides investigating the Jalen Brunson signing, the league also looked into the hiring of Rick Brunson and the signing of another CAA client, Isaiah Hartenstein. However, the league only found an issue with the Jalen signing.
The Sixers faced a similar investigation due to their free agency moves, including a contract agreement with P.J. Tucker that leaked early. Philadelphia was docked a pair of second-round picks for early contact with Tucker and Danuel House.
A year ago, the Heat and Bulls each forfeited second-round picks for free agency gun jumping related to Kyle Lowry and Lonzo Ball, so the NBA has established a pattern of penalizing a second-rounder for each instance of early free agency contact.
The Knicks have traded away their own 2023 and 2024 second-round picks, so the 2025 pick was their earliest available second-rounder. The team had acquired extra second-rounders in '24 and '25, but it appears the NBA decided to rescind New York's own pick to simplify matters.