Magic big man Moritz Wagner, Pistons guard Killian Hayes, and Pistons wing Hamidou Diallo were all ejected for an incident in Wednesday's game, tweets Mike Curtis of The Detroit News.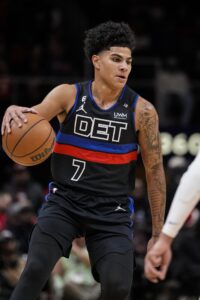 As shown in the video and multiple replays courtesy of Bally Sports Orlando (Twitter video link), Wagner initiated the altercation by hip-checking Hayes into the Pistons' bench, which obviously riled everyone nearby. Diallo then caught up and shoved Wagner in the back with a forearm, followed by Hayes punching/forearming Wagner in the back of the head, which appeared to cause Wagner to lose consciousness.
Officially, Wagner and Hayes were both given flagrant 2 fouls, while Diallo received two technical fouls.
Hayes is almost certain to face a pretty significant suspension for his part in the altercation, as ESPN's Bobby Marks notes (via Twitter). Several Magic players left their bench area to join the fray, and while nothing really transpired beyond a few mild shoves (it looked like most were just trying to get Wagner out), leaving the bench typically draws an automatic suspension by the NBA, per Vincent Goodwill of Yahoo Sports (Twitter link).
Since so many of Orlando's players left the bench, it seems probable that the suspensions will be staggered so the Magic will still have eight available players, the minimum required to play a game, Goodwill adds (via Twitter). The suspensions are likely to be handed down sometime on Thursday.
Both teams' next games are on Friday; the Pistons play in Chicago, while the Magic are home against the Wizards.