3:18pm: The trade is now official, per Boston. The Celtics acquired a future protected second-round pick from the Spurs to complete the deal.
The Spurs have waived both Dieng and Vonleh, as expected, per NBA.com's transaction log.
---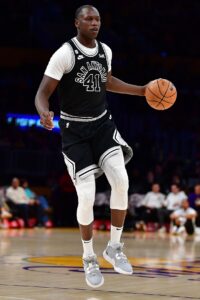 1:08pm: The Celtics are trading big man Noah Vonleh and cash considerations to the Spurs, sources tell Shams Charania of The Athletic (Twitter link).
The Spurs are waiving center Gorgui Dieng to create a roster spot for Vonleh, who will also be waived, according to ESPN's Adrian Wojnarowski (Twitter link).
It's a salary dump move for Boston, as Vonleh's salary is non-guaranteed and would have become fully guaranteed if he remained under contract through Saturday. The Celtics will free up a roster spot and save $7.15MM toward their projected luxury tax bill, tweets ESPN's Bobby Marks.
The Celtics will also generate a small $1.16MM traded player exception, Marks notes (via Twitter). That's the amount of guaranteed money owed to Vonleh.
The 27-year-old was a deep-bench reserve for Boston. In 23 games, he averaged just 7.4 minutes per contest. The ninth overall pick of the 2014 draft, Vonleh has played for eight different teams in as many NBA seasons. He played in China in 2021/22.
San Antonio has plenty of cap room available — $27.1MM, per Marks — to waive Dieng's guaranteed salary without worrying about the financial implication. He was on a veteran's minimum deal and rarely saw the court this season, appearing in just 13 games with averages of 4.1 PPG, 3.2 RPG and 2.0 APG in 11.6 MPG.
In fact, the Spurs are well below the salary cap "floor" of $111,290,000, so it was an easy decision for them from a financial standpoint — adding more money to the books just means they'll be that much closer to the floor. If they don't reach the threshold, the Spurs are obligated to make up the difference by distributing the shortfall to the players on their roster.
San Antonio will also open a roster spot with an eye toward flexibility ahead of the February 9 trade deadline. Since the Spurs still have so much cap room available, they're likely to be involved in more minor trades that involve dumping salary.
The Spurs will have to send something back to Boston to make the trade official, tweets John Hollinger of The Athletic, likely something with little-to-no value, like a heavily protected second-round pick or the rights to a draft-and-stash player.
As Hollinger tweets, it's possible that a couple more players with non-guaranteed contracts could be traded in advance of the January 7 deadline, with an eye on savings toward the luxury tax.