As we explain in our glossary entry, the NBA's minimum salary exception doesn't just allow over-the-cap teams to sign players to minimum salary contracts. It also allows clubs to trade for players on minimum contracts without having to send out any matching salary.
However, not every player on a minimum salary contract can be acquired using the minimum salary exception. Since the exception only allows teams to sign players to one- or two-year contracts, similar rules apply in trades. A team can't use the minimum salary exception to acquire a player on a three- or four-year contract, even if he's earning the minimum.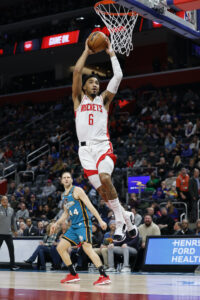 What does that mean in practical terms? Let's use Rockets forward Kenyon Martin Jr. as an example, since his name has surfaced in some trade rumors in recent months.
Martin is earning $1,782,621 this season, which is his minimum salary based on the contract he signed in 2020. Since he's currently in the third year of a four-year contract though, a team acquiring him can't absorb his salary using the minimum salary exception. That team, assuming it's over the cap, would either have to own a trade exception big enough to take on Martin's $1,782,621 salary or send out a player to match it.
If Martin were on a one- or two-year minimum salary contract, he could be traded straight up for, say, a draft pick without his new team requiring a trade exception or an outgoing salary. That's the case for a trade candidate like Bucks big man Serge Ibaka, who is on a one-year minimum deal.
This rule shouldn't be a major impediment for any transactions this season, since many teams have trade exceptions available and those that don't should have at least one expendable minimum salary player to send out for matching purposes.
Still, it's worth keeping tabs on the minimum salary players like Martin who fit this bill, since it could affect how certain deals are constructed at this season's deadline.
Here's the list of players earning the minimum salary who can't be acquired using the minimum salary exception in 2022/23:
---
Atlanta Hawks
Boston Celtics
Charlotte Hornets
Chicago Bulls
Cleveland Cavaliers
Dallas Mavericks
Detroit Pistons
Golden State Warriors
Houston Rockets
Indiana Pacers
Los Angeles Clippers
Memphis Grizzlies
Miami Heat
Minnesota Timberwolves
New Orleans Pelicans
New York Knicks
Oklahoma City Thunder
Philadelphia 76ers
Portland Trail Blazers
Sacramento Kings
San Antonio Spurs
Washington Wizards