Leading up to the February 9 trade deadline, we're keeping an eye on potential trade candidates from around the NBA. We're continuing today with a handful of popular wing targets.
---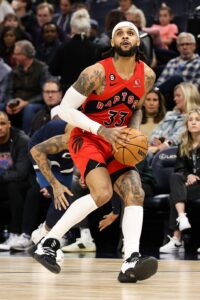 Salary: $17.5MM in 2022/23, $18.8MM player option in '23/24
Trent is a legitimate 3-and-D player in a league constantly looking for players in that mold. I've read nothing but good things about his work ethic, and he was praised for his professionalism after being briefly demoted to a reserve role early in the season.
I've been a little surprised that his name keeps being floated as perhaps the most likely Raptor to be traded. He just turned 24 years old last week, is still improving, and is one of the only real threats from deep on a team that desperately needs floor spacing – Toronto is 28th in the league in three-point shooting (33.4%).
Perhaps money is the sticking point. Trent has a $18.8MM player option for '23/24 that he's expected to decline in search of a long-term deal.
Salary: $10MM in '22/23, $10.5MM team option in '23/24
Burks' career trajectory is unusual, as he struggled with injuries and inefficiency for several years with Utah before bouncing around the league — he's now on his seventh team in the past five years.
A former lottery pick becoming a journeyman doesn't sound that intriguing on the surface, but Burks has played the best basketball of his career over the past three years with the Knicks and Pistons. He has always been able to get downhill and draw fouls, but he has evolved into an excellent three-point shooter, converting at least 40% of his looks each of the past three seasons (including a career-high 44.4% in '22/23).
Part of the reason why the Pistons' asking price is seemingly high for Burks (I haven't actually seen a report indicating what they're after) is because he has outplayed his current contract and has a team option for $10.5MM, making him an affordable asset. He would theoretically be the easiest player to acquire on this list from a salary-matching perspective.
Salary: $15.56MM in '22/23, $16.52MM team option in '23/24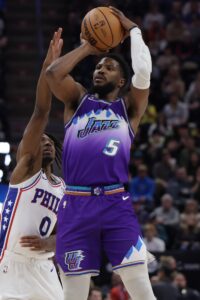 Beasley is only 26 years old, so there's plenty of time for him to develop other parts of his game, but to this point in his career he has mostly been a high-volume shooting specialist. Nearly 70% of his field goal attempts have come from behind the arc in '22/23, and while he has been in a major slump in January (30.7%) to drop his season-long average to 35.9%, he is still a player who must be accounted for at all times (his career mark is 38.1%).
Utah runs a lot of three-guard lineups, which sort of makes Beasley the small forward by default, but he's on the smaller side even at the two, and he doesn't defend either position particularly well. He's a very bouncy athlete, though he doesn't get to showcase it much, and rarely drives or makes plays for others.
The Jazz are reportedly looking for a first-round pick for him — I only see that happening if the pick is protected (lottery?) and Utah takes on a multiyear contract in return. Having said that, the team option for next year makes him a little more appealing, as an acquiring team would have the flexibility to either keep him an additional year or trade him down the line.
Josh Hart, G/F, Trail Blazers
Salary: $13MM in '23/24, non-guaranteed $13MM player option in '23/24
Hart is one of the top rebounders in the game on the wing, pulling down 8.1 boards per contest. He's also an unselfish passer (4.0 assists per game) and hard-charging fast break player who hustles all over the court.
He isn't a great outside shooter (34.6% career, 33% this year), but he is a relentless worker whose energy and enthusiasm is infectious. He certainly gets the most out of his skill set.
Hart's contract is a little odd. His player option for next season is non-guaranteed, so if he picks it up a team could release him without having to pay him. While he's too good for that to happen, there's also basically no incentive to exercise that option when he can opt out and seek a long-term, guaranteed contract.
---
Note: This list isn't meant to be comprehensive, just a brief overview. There are a number of other wings that have been in the rumor mill, including Eric Gordon, Kelly Oubre, Terrence Ross, Josh Richardson, Doug McDermott, Saddiq Bey, Tim Hardaway Jr., and several others.