Leading up to the February 9 trade deadline, we're keeping an eye on potential trade candidates from around the NBA. We're continuing today with a handful of veteran guards.

---
2022/23: $31.4MM
2023/24: UFA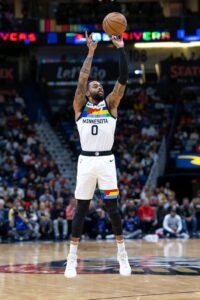 Like many players on Minnesota's roster, Russell had a slow start to the season, averaging 14.4 PPG, 3.4 RPG, 6.7 APG and 1.3 SPG on a sub-optimal .425/.318/.759 shooting line (53.1 true shooting percentage) through the end of November (22 games, 31.3 MPG).
However, he has been on fire ever since, averaging 20.5 PPG, 2.7 RPG, 5.9 APG and 1.0 SPG on .496/.441/.931 shooting (65.7 TS%) over his past 27 games (34.4 MPG).
Overall, he is averaging 17.8 PPG, 3.0 RPG, 6.2 APG and 1.1 SPG. He's posting career-best shooting splits from all over the court, including 54.2% on twos, 39.1% on threes (46.6% from the field), and 87.1% from the free throw line, for a career-high (by far) 60.5 TS%.
Part of the reason he's had so much success scoring lately is because the Wolves been using him more off the ball – he's shooting 39.3% on catch-and-shoot threes, per NBA.com. It will be difficult for the Wolves to replace the former All-Star's production, as they rank just 18th in 3PT%, and he has been the team's second-leading scorer with Karl-Anthony Towns injured.
That's not to say he's a perfect player by any means, as he has always been a below-average defender and rebounder who can frustrate with lack of effort. His decision-making can also be questionable at times, which is why he's best utilized as more of a combo guard than a traditional point.
Russell, who turns 27 next month, is not making it an easy decision for the Wolves to move him in his contract year. They have been winning lately, and he's had a big role in that. Do they want to pay him in free agency if they don't extend him, especially after last year's poor playoff performance?
2022/23: $22.7MM
2023/24: $24.4MM ($14.3MM guaranteed)
Conley, on the other hand, is more of a traditional pass-first floor general, with an elite 4.73-to-1 assist-to-turnover ratio. At 35 years old, he is on the downside of his career, but the Jazz have been better (+2.0 net rating) when he's on the court, going 21-19 when he plays and 5-7 without him.
While he isn't scoring much this season (10.3 PPG), Conley is dishing out a career-high 7.6 APG, and his 36.6% mark from deep is above league average. He's fallen off a little more on the other end – Conley used to be one of the better point-of-attack defenders in the league, but isn't as quick as he once was.
The big thing with Conley isn't whether he provides an immediate positive impact (he does), it's more about paying a small, aging point guard $24.4MM next season. His large partial guarantee makes it impractical to waive him, because whichever team he's on would still be on the hook for a substantial amount.
2022/23: $13MM
2023/24: UFA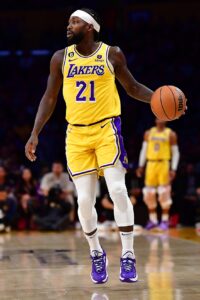 As is the case with Russell, it's been a tale of two halves for Beverley. Through 20 games (26.9 MPG), he was averaging just 4.5 PPG on a miserable .298/.234/.760 shooting slash line.
Over the past 21 games (26.7 MPG), that has completely flipped, as he's averaging 8.2 PPG on an excellent .473/.434/.875 shooting line. He's up to 34.7% from deep on the season, which isn't great, but it's respectable (his career mark is 37.6%).
Beverley's fit with the Lakers has been a little more awkward than anticipated, but it's probably not a coincidence that he's been playing some of his best basketball while two other guards (Austin Reaves and Lonnie Walker) have been injured (Walker just returned on Saturday against Boston). That's more a product of poor roster construction than anything against the players individually.
The 34-year-old is a natural trade candidate because he's the only player on the roster who makes more than $7MM and less than $37MM, plus his deal expires at the end of the season. Beverley's improved play of late makes him more than just a salary-matching piece – the Lakers will need a legitimate upgrade if they move him, even if it almost seems inevitable.
2022/23: $8.5MM
2023/24: UFA
Fun fact: Curry is the NBA's active leader with a career mark of 43.9% from three-point range, good for third-best all-time. In '22/23, he's shooting 43.8% from deep.
Curry, who turns 33 this summer, is an impending free agent with an affordable expiring contract. He got off to a slow start following offseason ankle surgery, but he is a very good offensive player due to his elite shooting (he's also great on mid-range pull-ups).
The problem is he's only 6'2" and is definitely more of a two guard than a lead ball-handler. He has always been a negative defensively.
Curry would provide value on a lot of teams – the main issue is the Nets have multiple small guards who can shoot and struggle defensively, making his skill set a little redundant. Adding frontcourt size and depth seems like it should be a priority.
---
Note: This list isn't meant to be comprehensive, just a brief overview. There are a number of other guards that have been in the rumor mill, including Kyle Lowry (though he seems unlikely to be traded), Russell Westbrook (ditto), Bones Hyland, Derrick Rose, R.J. Hampton, Grayson Allen and Gary Harris, among others.