Pelicans forward Zion Williamson will be sidelined a minimum of three weeks due to a right hamstring strain, the team's PR department tweets.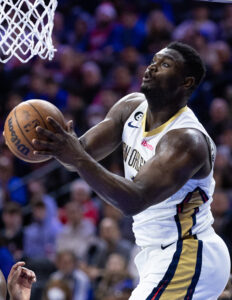 Medical imaging confirmed the injury that Williamson suffered during the second half of Monday's game against Philadelphia. He'll simply be reevaluated in three weeks, meaning he could be out longer than that. The Pelicans have 15 games remaining this month.
It's obviously a significant blow for New Orleans, which has emerged as one of the Western Conference's top contenders. The Pelicans have a 23-14 record, third-best in the West behind Denver and Memphis.
Williamson, who missed all of last season due to a foot injury, was well on his way to an All-Star season. He's averaging 26.0 points, 7.0 rebounds and 4.6 assists in 33 minutes per game. He was signed to a five-year max extension in July despite playing in a combined 85 games in three seasons after being the top pick of the 2019 draft.
The Pelicans have been without Brandon Ingram since Nov. 25 due to a left great toe contusion. He's listed as out once again for Wednesday's game against Houston, the team tweets.
If Ingram can return soon, it would certainly soften the blow regarding Williamson's latest ailment. Naji Marshall, Larry Nance Jr. (also out on Wednesday due to right shoulder soreness) and Jaxson Hayes could also absorb some of Williamson's minutes.