JULY 6: Williamson's five-year, maximum-salary extension is now official. The Pelicans put out a press release confirming the signing after Zion put pen to paper at the Dryades YMCA in New Orleans today on his 22nd birthday (Twitter video link via ESPN's Andrew Lopez).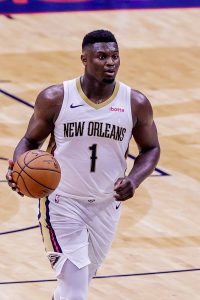 "Zion is an astounding 22-year old talent, who we believe is just scratching the surface of what he is capable of, both on and off the floor," Pelicans executive VP of basketball operations David Griffin said in a statement. "We are extremely pleased to take this next step of our collective journey together."
Now that the deal is done, it should just be a matter of time before we learn what sort of protection language is included in the contract. Griffin did confirm today that the contract does not feature a fifth-year player option (Twitter link via Lopez).
---
JULY 2: Williamson and the Pelicans have now reached an agreement on a five-year, maximum-salary extension, agent Austin Brown tells Adrian Wojnarowski of ESPN (Twitter link).
Details on the protections included in the contract still haven't been reported.
---
JULY 1: The Pelicans are nearing an agreement on a five-year rookie scale extension for forward Zion Williamson, reports Shams Charania of The Athletic (Twitter link).
According to Charania, it'll be a maximum-salary deal that can be worth up to $231MM. That indicates it will contain Rose Rule language allowing Williamson to qualify for a starting salary of 30% of the 2023/24 cap instead of 25% if he makes an All-NBA team next season.
Charania's report doesn't include any details on how much of the contract will be fully guaranteed, which figured to be the sticking point in negotiations. He does say (via Twitter) that the deal is expected to include some protections for the Pelicans and that the two sides were sorting through those details overnight.
We'll have to wait for more specifics on that front, but it appears the two sides are on the verge of finding common ground fairly quickly after the former No. 1 overall pick officially became extension-eligible.
The agreement ends months of speculation that Williamson might turn down an extension offer from the Pelicans to play in a larger market or for a more successful franchise. Williamson has attempted on several occasions to quash those rumors by proclaiming a love for New Orleans, with his latest comments coming three weeks ago at his youth basketball camp.
Injuries have derailed Williamson's career since he entered the NBA as a highly touted No. 1 pick in 2019. He missed all of this season after undergoing foot surgery and has played in a combined 85 games in three years. However, he has shown signs of being a dominant force, averaging 25.7 points, 7.0 rebounds and 3.2 assists per game and making an All-Star appearance in 2021.
A healthy season from Williamson, who will turn 22 later this week, could make the Pelicans a serious Western Conference contender. New Orleans staged a late-season surge after trading for CJ McCollum, advancing through the play-in tournament and into the first round of the playoffs. Williamson could be a difference maker for an already talented roster, but he'll have to prove that he can stay on the court.
Based on the NBA's latest cap projection of $133MM for the 2023/24 season, Williamson's deal would be worth $231.42MM if he meets the Rose Rule criteria next season, or $192.85MM if he doesn't. That's without considering any protections that might be included in the contract.