Anfernee Simons has been diagnosed with a grade 2 right ankle sprain after undergoing an MRI on Thursday, the Trail Blazers announced in a press release.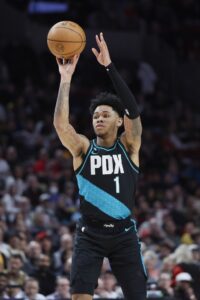 Portland confirmed the fifth-year guard will miss All-Star weekend, which was expected (he was replaced in the three-point contest by Julius Randle). However, his return timeline is hazy, with the Blazers saying it will be determined at a later date.
As Aaron J. Fentress of The Oregonian notes (via Twitter), grade 2 sprains can be tricky injuries. Simons' teammate, Justise Winslow, has been out since December 21 due to his own grade 2 ankle sprain, though that seems to be an abnormally slow recovery process.
Another player who dealt with a grade 2 ankle sprain this season was LaMelo Ball, who missed about a month of action to start 2022/23. At the time, Jeff Stotts of InStreetClothes.com reported that players have missed an average of 19 days with the injury, so perhaps Simons will recover quicker than Winslow or Ball. The Blazers are off until next Thursday, so that should help.
Simons sustained the injury in Tuesday's loss to the Wizards. He drove toward the basket late in the third quarter, pulled up, and attempted a floater over Wizards forward Kyle Kuzma. When he landed, Simons' right foot came down on Kuzma's right foot, causing his ankle to roll (video link). He had to be helped off the court by the training staff and was on crutches after the game.
If Simons has to miss extended time after the break, it would be a tough blow for a Blazers team that's fighting to stay in the play-in mix in the Western Conference. Portland currently has a 28-30 record, putting the club a half-game behind the No. 10 Thunder.
The Blazers don't have a ton of backcourt depth, so it won't be easy to replace Simons' production. Portland's second-leading scorer is posting career highs in several categories this season, including points (21.4), assists (4.2), rebounds (2.7), FG% (.450) and FT% (.913) through 56 games (35.5 minutes per contest).
Rookie first-rounder Shaedon Sharpe should receive an uptick in minutes with Simons sidelined, but beyond him it's hard to say who else could be in line for additional playing time. Nassir Little is another candidate, though he's definitely more of a forward than a guard.