Joe Mazzulla is officially the head coach of the Celtics, with the interim tag now removed from his job title, the team announced (via Twitter). Mazzulla also received a contract extension, although terms of the deal weren't released.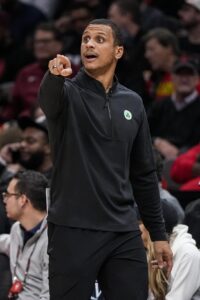 "As he has shown, Joe is a very talented coach and leader," said president of basketball operations Brad Stevens. "He has a unique ability to galvanize a room around a mission. We are thankful for the work he has done to help get us to this point, and excited that he has agreed to lead us into the future."
Mazzulla took over when Ime Udoka was suspended in September following an inappropriate relationship with a staff member. Mazzulla has guided the Celtics to a league-best 41-17 record, winning Coach of the Month honors for October and November, and will coach Team Giannis in this weekend's All-Star Game.
The team's official announcement acknowledges that Mazzulla replaces Udoka, who led Boston to a 51-31 mark and an NBA Finals appearance in his only season at the helm.
Despite the circumstances that led to his dismissal, Udoka is expected to be a strong candidate for any head coaching jobs that open up after this season, tweets Chris Mannix of Sports Illustrated.
Mazzulla, 34, joined the Celtics staff as an assistant in 2019. After playing college basketball at West Virginia, he held coaching jobs in the NCAA and with Boston's G League affiliate.