11:11pm: The trade is now official, according to a press release from the Clippers.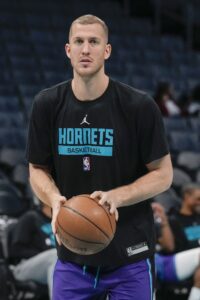 "Mason will help fortify our center position with his energy and playmaking ability," president of basketball operations Lawrence Frank said in a statement. "He is an impressive passer with great vision. Our team will enjoy playing with him."
As we relayed in a separate story, Jackson is expected to be bought out by the Hornets.
---
1:46pm: The Clippers will get the veteran center they've been seeking by acquiring Mason Plumlee from the Hornets, tweets ESPN's Adrian Wojnarowski.
Point guard Reggie Jackson will head to Charlotte in return, and the Hornets will also receive the Clippers' 2028 second-round pick, according to Andrew Greif of The Los Angeles Times (Twitter link).
Plumlee is making $9.08MM in the final year of his contract. He has been the Hornets' starting center over the past two seasons.
Despite being 32 years old, Plumlee is posting career highs in most statistical categories, including points (12.2), rebounds (9.7), assists (3.7), FG% (66.9) and minutes per game (28.5) in 56 games this year. The Clippers are undersized off their bench and have been looking for a reliable big man to back up Ivica Zubac.
Jackson had been a focus of the Clippers' offense since he arrived in L.A. three years ago, but he has seen his role reduced recently. The 32-year-old has an expiring contract worth $11.2MM.
Through 52 games (38 starts, 25.7 minutes) with the Clippers in 2022/23, Jackson was averaging 10.9 points, 2.2 rebounds and 3.5 assists.