3:09pm: McCowens' new contract is official, the Hornets announced in a press release.
---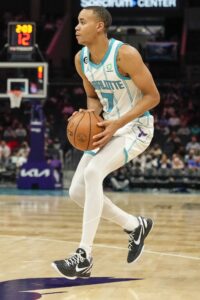 1:29pm: Bryce McGowens is receiving a promotion from the Hornets, as they plan to convert his two-way contract to a four-year, $7.4MM standard deal, his agents, Mark Bartelstein and Kyle McAlarney of Priority Sports, tell ESPN's Adrian Wojnarowski (Twitter link).
The fourth year of the deal, which would be for the 2025/26 season, is a team option, Wojnarowski adds.
McGowens was the 40th overall pick of last June's draft after spending one college season at Nebraska. In 26 games (14.7 MPG) as a two-way rookie for Charlotte, he has averaged 4.1 PPG, 1.7 RPG and 1.0 APG on .379/.364/.786 shooting.
The Hornets still have their full mid-level exception available, and they'll be using a portion of it to give the 20-year-old a four-year deal for more than the minimum in year one.
Charlotte has two openings on its 15-man roster at the moment, so the team won't need to waive anyone to promote McGowens. Today was the deadline for the Hornets to fill the 14th spot on their standard roster, as we previously explained.
Once the signing is official, the Hornets will have one standard roster spot open as well as a two-way slot.