The Lakers will acquire center Mohamed Bamba from the Magic in exchange for veteran guard Patrick Beverley, tweets Shams Charania of The Athletic.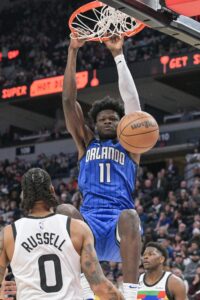 Orlando will also receive a second-round draft pick and cash in the deal, according to Tim Reynolds of The Associated Press (Twitter link).
Bamba will take the place of Thomas Bryant, who was traded to Denver earlier today, alongside LeBron James and Anthony Davis in L.A.'s frontcourt. Bamba signed a new two-year deal with Orlando over the summer, so he's under contract for one more season at $10.3MM.
Through 40 games this season with the Magic, the 24-year-old averaged 7.3 PPG, 4.6 RPG and 1.0 BPG on .495/.398/.686 shooting. After starting 69 of his 71 games in '21/22 and averaging 25.7 minutes per contest, Bamba saw his role reduced in '22/23, only receiving six spot starts and 17.0 minutes per game.
Moving off Bamba creates a more clear-cut rotation for Orlando and picking up a second-round pick helps somewhat, but it's hard to say that his tenure with the Magic was anything but a disappointment. He was selected sixth overall back in 2018, ahead of players like Collin Sexton, Mikal Bridges, Shai Gilgeous-Alexander, Michael Porter Jr., Kevin Huerter and Robert Williams, among others.
Bamba is currently serving a suspension as part of his role in an altercation with the Wolves, so he will be ineligible to play for two more games.
As Reynolds notes, the 34-year-old Beverley is unlikely to remain with the Magic, who have a slew of young guards. He's making $13MM in the final year of his contract.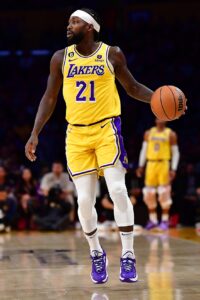 Beverley will have suitors if he's bought out or waived by Orlando. He isn't the defensive player he once was, but he plays hard and with a lot of energy, so contenders will be interested in his services.
In addition to saving a significant amount of money in luxury tax payments with the trade, the Lakers continue to add younger players. They had their own backcourt logjam to deal with, and moving Beverley helps in that regard as well, though he was arguably the team's best perimeter defender (which, frankly, isn't saying much given the team's lack of talent on that end — the Lakers are 20th in the league in defensive rating).
Adding Bamba's $10.3MM salary for '23/24 is further evidence that the Lakers are unlikely to operate as an under-the-cap team in the offseason. However, his deal is non-guaranteed, so they could still go that route by waiving or renouncing the cap holds for all of the players they acquired ahead of the deadline (Bamba, Davon Reed, Rui Hachimura, Jarred Vanderbilt, Malik Beasley and D'Angelo Russell). Only Vanderbilt has guaranteed money next season, and it's a very small ($300K) partial guarantee.
Rory Maher contributed to this post.