FEBRUARY 12: Ross has officially been released by Orlando, the team has revealed in a press release (via Twitter). He'll reportedly sign with the Suns upon clearing waivers.
---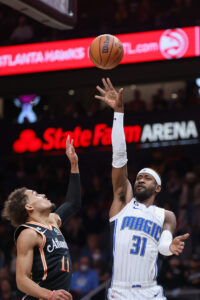 11:06am: The Magic and veteran swingman Terrence Ross are finalizing a buyout agreement that will put him on track for free agency, reports Adrian Wojnarowski of ESPN (Twitter link).
Ross, 32, has been with the Magic since being traded from Toronto to Orlando at the 2017 deadline.
He averaged 14.4 points in 27.2 minutes per game in 220 contests during his first four full seasons with the team, but has seen his role cut back in the last two seasons as the Magic have gone through a rebuilding process. He has averaged just 9.2 PPG in 22.8 MPG across 105 appearances since the start of last season.
Ross has been viewed as a trade candidate since Orlando's 2021 fire sale that saw Nikola Vucevic, Aaron Gordon, and Evan Fournier all dealt. However, he stuck around for an extra two years beyond that, as the Magic never got the sort of offer they sought for the veteran shooter, who has made 36.2% of his 3,500 career three-point attempts.
Given that Ross is on an expiring contract and suggested last spring he'd welcome a change of scenery, it comes as no surprise that he's seeking his exit from Orlando after staying put through the trade deadline.
Michael Scotto of HoopsHype, who first reported that Ross was a buyout candidate, says the Mavericks and Suns are two potential suitors to keep an eye on. Marc Stein (Twitter link) has also heard word of Dallas' interest in the veteran wing.