Nets star Kyrie Irving has requested a trade, league sources tell Shams Charania of The Athletic (Twitter link).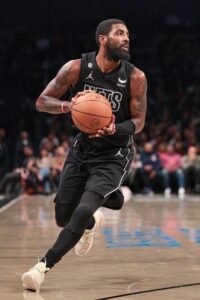 According to Charania, the Nets have been informed that Irving wants to be dealt prior to next Thursday's trade deadline and intends to leave in free agency this summer if he remains in Brooklyn for the rest of the season.
Although Irving has been repeatedly at the center of off-court storylines since joining the Nets in 2019, this news still comes as a surprise. After serving a team-mandated suspension earlier in the season for promoting an antisemitic film, Irving had played some of his best basketball while the Nets had risen up the standings and Brooklyn had been relatively drama-free.
The Nets are 25-11 since a 6-9 start and hold a top-four seed in the Eastern Conference despite being without Kevin Durant since January 8 due to a knee injury. As for Irving, he has averaged 27.2 points, 5.3 assists, and 5.1 rebounds per game on .495/.399/.870 shooting in 32 appearances since serving his suspension.
Irving's trade request appears to be related to failed extension discussions between his camp and the Nets, tweets Chris Haynes of Bleacher Report. Kyrie's stepmother and agent Shetellia Riley Irving told Haynes last week that they wanted to complete an extension with Brooklyn and said the ball was in the team's court.
According to Charania, the Nets recently offered Irving a contract extension that featured "guarantee stipulations." That offer, which was declined, wasn't well received and signaled that the two sides weren't on the same page, Charania adds.
As Marc Stein notes (via Twitter), the Nets had been comfortable playing out the season without extending Irving, since they felt he'd need their help on a sign-and-trade deal this summer to get to a preferred destination. It sounds like Kyrie didn't appreciate the team's lack of urgency on his future.
Irving's trade request represents the second time in two years that a Nets star has asked to be dealt just ahead of the in-season deadline while Durant was on the shelf due to an injury — James Harden took that route a year ago and was sent to Philadelphia.
Of course, Durant himself also asked for a trade in the offseason and the Nets ultimately opted not to grant that request.
It will be interesting to see how those two situations influence the front office's thinking this time around. Up until this point, the decision to hang onto KD (as well as Irving, who was considered an offseason trade candidate too) has worked out considerably better than the decision to send Harden to a division rival for a package headlined by Ben Simmons.
If the Nets do head to the trade market to try to find a taker for Irving, it's probably safe to assume they'll talk to the Lakers, who were the only team seriously linked to the All-Star guard last summer. Irving was said to be interested in reuniting with LeBron James in Los Angeles, while the Lakers were reportedly willing to offer Russell Westbrook and draft capital to Brooklyn for Kyrie (at least one other Net would have to be included to match salaries).
As Bobby Marks of ESPN tweets, Irving's expiring $36.9MM contract includes a 15% trade kicker that would currently be worth $2.1MM. The Nets would be responsible for paying that bonus if they were to move him.