2:35pm: Imaging on Curry's left leg on Saturday night revealed that he partially tore his superior tibiofibular ligaments and interosseous membrane, in addition to incurring a lower leg contusion, the Warriors have announced in a press statement (Twitter link). The team intends to establish a recovery timeline for Curry in the coming days.
---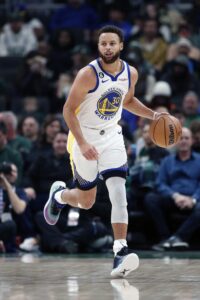 12:36pm: Warriors All-Star point guard Stephen Curry will be sidelined for several weeks with a left leg injury, sources inform Shams Charania of The Athletic (Twitter link).
Curry departed Golden State's victory over the Mavericks on Saturday night in the third quarter after incurring the injury. He underwent imaging subsequently that determined the ailment was more serious than his club had hoped.
This is naturally a huge blow for Golden State, currently the seventh seed in the West at 27-26. There are just 29 games left in the 2022/23 regular season and only two-and-a-half games separate the Warriors and the No. 13 seeded-Lakers. If Golden State cannot at least tread water in the absence of Curry, the team could quickly fall out of the play-in tournament bracket.
As Anthony Slater of The Athletic tweets, Curry's injury means he will likely be sidelined through at least the 2023 All-Star Weekend, so an injury replacement figures to be selected. Slater cautions that the Warriors are continuing to determine exactly how severe the injury is and exactly how long Curry will be shelved.
Per Monte Poole of NBC Sports Bay Area (Twitter link), Golden State is hopeful Curry could come back soon after the All-Star break. The regular season resumes on February 23.
The reigning Finals MVP is having another great individual season, despite his team's middling record. Curry is averaging 29.4 PPG on .495/.427/.922 shooting splits, along with 6.4 APG, 6.3 RPG and 1.0 SPG across 38 games.
This could also further complicate the Warriors' approach to the impending league trade deadline, as the club will have to determine what young assets it is willing to surrender – if any – in order to make a playoff push.