This is the second entry in our series breaking down the significant trades of the 2022/23 season. As opposed to giving out grades, this series explores why the teams were motivated to make the moves. Let's dive into a blockbuster deal between the Mavericks and Nets…
---
On February 6, the Nets sent Kyrie Irving and Markieff Morris to the Mavericks in exchange for Spencer Dinwiddie, Dorian Finney-Smith, Dallas' 2029 first-round pick (unprotected), and second-round picks in 2027 and 2029.
The Nets' perspective:
Irving's trade request derailed what had been a promising season for Brooklyn. The Nets had a poor start to 2022/23, going 2-5 before parting ways with former coach Steve Nash, but found success with his replacement, Jacque Vaughn, who was formerly the team's top assistant.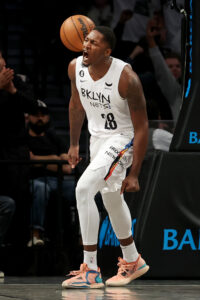 After Irving returned from his suspension following his promotion of an antisemitic film, things were looking up. At one point the Nets won 18 of 20 games, with Kyrie playing a big role in their success.
Unfortunately, Kevin Durant went down with another knee sprain, and the Nets started to lose, though not as much as they did in '21/22 without the star forward. Irving put up big numbers in a few of their victories and was evidently displeased that the Nets didn't offer him a full maximum-salary extension — he decided he'd had enough.
It's hard to say that Irving's tenure with the Nets was anything but a failure, even if he was highly productive when he was on the court. The team only won one playoff series during his stint despite having Durant healthy for two of those runs, not to mention former MVP James Harden for one. Injuries certainly played a role in that, but so did Irving's decision making.
Over Irving's three-and-a-half seasons with the Nets, he appeared in just 143 of a possible 278 regular season games, or 51.4%. He played in 13 of 20 playoff games (65%).
Whether it was injuries, leaving the team unexpectedly for personal reasons, refusing to get vaccinated, or a team-imposed suspension, Irving wasn't available nearly enough and caused chaos throughout the organization. Harden asking out last year was more complicated than just Irving's lack of availability, but it certainly played a role.
The simple fact is Irving was unreliable for Brooklyn. All you have to do is look at his games played to realize that.
From a purely basketball perspective, getting equal value in return for a player as talented as Irving was never going to be realistic. Considering he's on an expiring contract, and given all of the issues and controversy over the past handful of years, I'm honestly surprised the Nets got as much back as they did.
Finney-Smith and Dinwiddie were arguably the Mavs' second- and third-best players this season (in whatever order). Sure, they aren't stars, but they helped the team win games and played big roles in Dallas reaching the Western Conference Finals in 2022, ranking second and fifth on the team, respectively, in minutes per game during the postseason (both players also shot over 40% from three-point range).
Finney-Smith doesn't get much media attention since his playing style is selfless, but he has had a pretty remarkable career arc. After going undrafted in 2016, he caught on with the Mavs due to his defense and hustle. However, the combo forward only shot 51.7% on twos and 30.3% from deep over his first three seasons, so he was a liability offensively.
That has changed over the past three-plus seasons, with Finney-Smith improving both his two- and three-point percentages to 59.2% and 38.2%, respectively. He was a full-time starter and often had the impossible task of guarding the opposing team's best player, credibly defending positions one through four.
While Finney-Smith may not be a lock-down one-on-one defender like OG Anunoby or an elite shooter, he is a quality 3-and-D player who has positive value. Brian Lewis of The New York Post reported after the trade that multiple teams offered two first-rounders for the veteran forward – the Nets could easily deal him in the offseason if they're so inclined.
Dinwiddie thrived alongside Luka Doncic as a secondary play-maker over the past two seasons (he was really only on the team for about one full season, as he was acquired in February 2022). In 76 games (32.3 MPG) with the Mavs, he averaged 17.1 PPG, 3.1 RPG and 4.9 APG on a rock-solid .466/.404/.788 shooting slash line, good for a .605 true shooting percentage (the league average for guards in '22/23 is about 56%).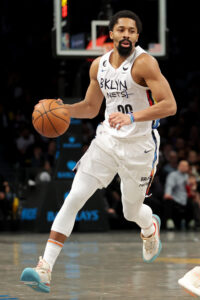 The combo guard is a below-average defensive player, but he's big for his position (6'5″, 215 pounds), so he at least offers some versatility. He's under contract through next season and will carry a reasonable $20.36MM cap hit in '23/24.
Both players will turn 30 years old later this season, so they're in the midst of their primes. Finney-Smith is on a long-term contract that will pay him $13.93MM in '23/24, $14.93MM in '24/25, and he has a $15.38MM player option in '25/26.
In addition to receiving two quality rotation players, the Nets also received the Mavs' unprotected 2029 first-round pick and a couple of second-rounders. Obviously, the unprotected first-rounder was the key to this deal being made, as there were other teams desperate to improve their chances this season, including the Lakers.
If things go south in Dallas or Irving simply walks as a free agent, how will Doncic respond? That's what everyone in the NBA will be monitoring in the coming months (and possibly years).
If Doncic is no longer on the team six years from now, all bets are off as far as that pick goes (he can become a free agent as early as 2026). Even if he stays, it's not like the Mavs are a world-beater or stacked with young talent. Losing Jalen Brunson in free agency and now trading away two of their best remaining players and an unprotected future pick makes it more difficult to make subsequent win-now moves.
It's worth noting that Brooklyn saved a significant amount of money toward the luxury tax with this deal and added a couple small ($4.5MM and $1.8MM) traded player exceptions as well.
The Nets did the best they could under the circumstances. I certainly don't blame them for not giving Irving the extension he wanted after all that's happened over the past handful of years. Obviously there was a major downside in that it caused Durant to ask out as well, which we'll cover in another article.
The Mavs' perspective:
Irving's value might be the most difficult to gauge of any player in the league, because when he's active and on the court, there's no question that he's a star player worthy of a max-salary commitment. He is one of the most skilled ball-handlers in NBA history and an elite shot-maker.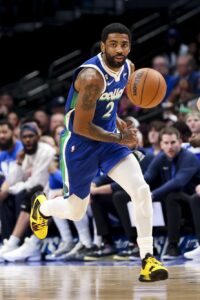 An ambidextrous finisher at the rim whose creativity is unparalleled, Irving averaged 27.2 PPG, 4.8 RPG, 5.8 APG and 1.3 SPG on a terrific .490/.397/.912 shooting line (.604 TS%) in his 147 games (35.8 MPG) with the Nets.
In addition to making one of the biggest shots in NBA history in Game 7 of Cleveland's championship victory over Golden State in 2016, Irving holds career Finals averages of 27.7 PPG, 4.2 RPG, 4.2 APG and 1.8 SPG on .468/.395/.926 shooting in 13 games (39.8 MPG). He has produced at an extremely high level on the highest stage, against elite competition.
When he gets hot, there's no one in the league that can guard him. In just his fourth game as a Maverick, Irving scored 26 points on 11-of-12 shooting in the fourth quarter against Minnesota, coming close to a franchise record (only Doncic with 28 and Dirk Nowitzki with 29 have scored more in a quarter). The Mavs wound up losing the game, but Kyrie nearly single-handedly gave them a chance to tie it after being down 18 to start the fourth.
Dirk was 40 years old when Doncic was a rookie and realistically should have been retired already – he could barely move. Trading for Kristaps Porzingis didn't work out. Irving is far and away the most talented teammate Doncic has ever played with.
Offensively, there's plenty of reason for optimism. Irving has shown he can be an excellent 1B option next to elite players, and Doncic certainly fits that bill. There's enough shooting left on the roster to think the Mavs will be improved on that end, and they're already eighth in the league in offense.
Adding top-end talent is more difficult than acquiring role players. The Mavs obviously believe acquiring Irving raises the team's ceiling — otherwise they would not have made the trade.
The Mavs could not have signed Irving – or any other top player – in free agency because they're well over the salary cap. In fact, they added about $29MM to their luxury tax bill with this trade, per Kurt Badenhausen of Sportico.
What they gave up is about the least you could possibly expect to give up for an eight-time All-Star in the middle of his prime. Irving is averaging more points per game (27.2) this season than Dinwiddie (17.7) and Finney-Smith (8.9) combined.
That said, availability has always been an issue for Irving. He missed an average of about 17 games per year due to injuries over his first eight seasons with the Cavs and Celtics. He has missed fewer than 10 games only once in 12 seasons, back in '14/15 with Cleveland (he missed seven).
Even putting aside Irving's injury history and volatility (and both of those are significant concerns), there are basketball reasons why the trade might not work out. At 6'2″, Irving doesn't have the size to regularly guard bigger players, and he doesn't always put forth much effort on the defensive end.
He is better than his reputation suggests when he tries, but his lack of size hurts in switching schemes. The Mavs can't hide him on weaker offensive players because that's what they do with Doncic.
Part of the reason why Irving made sense when paired with LeBron James and Durant is that both of those former teammates were capable of playing top-tier defense when locked in. Doncic can make plays, but a stopper he is not.
Trading away two quality rotation players for one great-when-available player hurt the team's size, defensive versatility and depth. Morris was included because he was unhappy with his playing time – he has yet to play a game for Dallas.
Josh Green is having a breakout third season for the Mavs. Instead of being a quality reserve, he's now a heavy-minutes starter. How he responds will be critical to the team's chances for the rest of the season and beyond.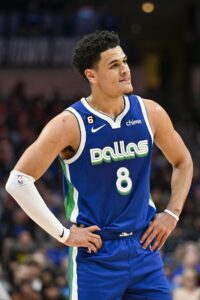 Rookie Jaden Hardy, another guard, has also had a real role post-trade after excelling in the G League. He looks overmatched defensively, but he's fun to watch when he gets going on offense.
The Mavs reached the Western Conference Finals last season primarily because they had the league's seventh-best defense. The main reason they have already nearly equaled last season's loss total (52-30 vs. 31-29) is because they have fallen all the way to 24th in defense.
Green, Reggie Bullock and Maxi Kleber (once he returns from a torn hamstring) will be absolutely vital in trying to hold together some semblance of a competent defensive unit. It will be a tall order, especially in the playoffs, assuming Dallas makes it in.
It seems odd to make such a bold trade for perhaps the NBA's most mercurial and unpredictable star when the team is already in a precarious position in the standings – the Mavs are currently the No. 6 seed in the West, but only two games away from completely missing the play-in tournament. Perhaps they believed they needed to shake things up because the previous roster wasn't going anywhere.
Obviously, Doncic signed off and approved of the deal. The fact that Irving has longstanding relationships with president of basketball operations Nico Harrison and head coach Jason Kidd theoretically helps.
Even in the most optimistic scenarios, Dallas will have difficult choices to make in the offseason. Let's say Irving and Doncic's partnership is fruitful, Christian Wood plays well, Green thrives in a bigger role and the Mavs have another long playoff run. Green will be eligible for a rookie scale extension, Wood is a free agent and they'll almost be forced to give Irving a massive new contract, assuming he wants to stay. That didn't turn out very well for the Nets.
If things go south – say they miss the playoffs outright or lose in the play-in tournament – Irving could walk in free agency. In that scenario, the Mavs would have given up two quality players on reasonable contracts, an unprotected first-rounder and two second-rounders for at most 26 regular season games of Irving (he has already missed one game with lower back tightness). Dinwiddie and Finney-Smith were reportedly positive voices in the locker room on top of being solid players.
Irving threatened to undergo season-ending knee surgery if Cleveland didn't trade him in the 2017 offseason. Two years later, he left Boston in free agency after publicly saying he was going to re-sign with the Celtics. Now he requested and was traded out of Brooklyn after feeling disrespected by not getting a maximum-salary extension.
How long will he last in Dallas if things don't go the way he wants? Will that have a ripple effect on Doncic like it did with Durant? The Mavericks may have bolstered their championship upside if they can build out the roster around Doncic and Irving, but the risk of everything going up in flames is also exponentially higher than it was before making the deal.