Alabama forward Brandon Miller will forgo his remaining college eligibility and enter the 2023 NBA draft, he tells Adrian Wojnarowski of ESPN.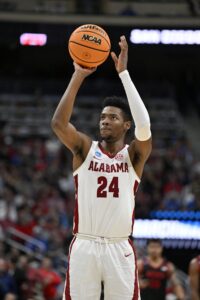 Miller is one of the draft's top prospects, currently ranked third on ESPN's big board, but he could go as high as second overall behind French phenom Victor Wembanyama, Wojnarowski adds.
As a freshman for the Crimson Tide in 2022/23, Miller averaged 18.8 PPG, 8.2 RPG, 2.1 APG, 0.9 SPG and 0.9 BPG on .430/.384/.859 shooting in 37 games (32.6 MPG). Alabama was a No. 1 seed in the NCAA Tournament, but the 20-year-old struggled mightily during the Tide's three-game run due to a groin strain, with the team ultimately losing to San Diego State in the Sweet 16.
The 20-year-old was widely considered the top prospect in college basketball, earning numerous accolades, including SEC Player and Freshman of the Year and second-team All-America.
A 6'9″ wing, Miller has drawn comparisons to Paul George due to his length, guard-like skills, shot-making and versatility.
However, Miller was also tied to a murder case a couple months ago. He allegedly brought the gun that was used in the killing of a woman on the Tuscaloosa strip in January, according to police testimony.
Miller's former Alabama teammate Darius Miles and another man, Michael Davis, were arrested and charged with capital murder. While the gun belonged to Miles, Miller reportedly brought it to the scene at his ex-teammate's request. Miller's car, which was struck by two bullets during the shooting, was allegedly one of two vehicles blocking the victim's car.
Miller was not charged with a crime and his coach called him a "fully cooperating witness" who didn't break any laws or school policies, which is why he was allowed to keep playing.