Former Knicks star Willis Reed died on Tuesday at age 80, according to reports from veteran NBA writer Peter Vecsey (Twitter link) and Don Burke of The New York Post. Reed was battling congestive heart problems during the past year, per Vescey.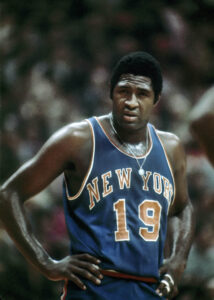 A member of the Knicks from 1964-74, Reed earned seven All-Star nods over the course of his career and was named the Rookie of the Year in 1965 and the NBA MVP in 1970. He won titles with the Knicks in 1970 and 1973, earning Finals MVP honors in both instances.
Reed appeared in a total of 650 regular season NBA games, averaging 18.7 points and 12.9 rebounds in 35.5 minutes per night. He also played in 78 postseason contests, posting 17.4 PPG and 10.3 RPG in 33.9 MPG. The big man was named to both the NBA's 50th and 75th anniversary teams.
Reed, who was the first Knick to have his jersey number retired and was inducted into the Basketball Hall of Fame, is perhaps best known for Game 7 of the 1970 Finals.
After missing Game 6 due to a significant thigh injury, Reed unexpectedly hobbled out of the tunnel onto the court at Madison Square Garden in uniform before the start of Game 7. He scored the Knicks' first two baskets and logged 27 minutes in the championship-clinching game.
Following the end of his playing career, Reed served as a coach and a front office executive for multiple NBA franchises, including the Knicks (as a head coach in 1977/78). He retired from his role as the New Orleans Hornets' vice president of basketball operations in 2007.
Our condolences go out to Reed's family and friends.