For the rest of the regular season and postseason, Hoops Rumors is taking a closer look at players who will be free agents or could become free agents during the 2023 offseason. We consider whether their stock is rising or falling due to their performance and other factors. Today, we're focusing on a handful of Atlantic players.
---
2022/23: $33MM
2023/24: $35.64MM player option
Stock:

Up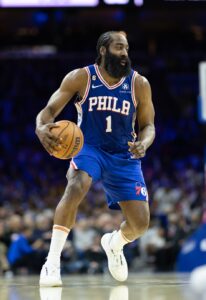 Harden started to look a little old and out of shape in 2021/22, never quite recovering from a reoccurring hamstring injury originally sustained in late '20/21.
His counting stats were still excellent (22.0 PPG, 7.7 RPG, 10.3 APG, 1.3 SPG), but he lacked burst when driving and shot the ball poorly for his standards, posting a .410/.330/.877 shooting line (58.3% true shooting percentage). 33.0% was a career-low from three, and his FG% and TS% were his lowest marks since his rookie year back in '09/10.
Harden wound up taking a "pay cut" in free agency last summer to allow the Sixers to sign P.J. Tucker and Danuel House. However, the contract was only a one-plus-one, so he can opt out of his player option and become a free agent again this summer.
He seemed to be in great shape to open '22/23, but unfortunately sustained a foot injury which caused him to miss 14 games. He has looked very good since he returned.
The 33-year-old may no longer be at his peak form, when he led the league in scoring for three straight years from 2017-20, but he's not far from it. Harden has acclimated nicely to being more of a distributor alongside Joel Embiid, averaging 21.9 PPG, 6.3 RPG, a league-leading 10.8 APG and 1.1 SPG on a .448/.397/.874 shooting line (62.2 TS%) through 49 games (36.9 MPG).
39.7% from deep is a career-high for the former league MVP, as is his 3.19-to-1 assist-to-turnover ratio. Advanced stats say he has been among the top 10 or 15 players in the league.
I know many people think the rumors about Harden potentially going back to Houston in the offseason are a negotiating ploy to increase the value of his next deal. I could very well be wrong, but I'm not in that group.
I realize Harden will be 34 in the summer, and the Rockets have a team full of young players. But I really believe he might opt out and sign a four-year, maximum-salary contract with his former team, regardless of how the Sixers do in the playoffs. He just seemed happier there, and the Rockets are motivated to improve because they don't control their own pick in 2024. We'll see what happens.
2022/23: Details below
2023/24: UFA
Stock:

Down
Dedmon's financial situation is a little complicated. The Pistons used the stretch provision on his contract back in 2020 after acquiring him from Atlanta, so he will continue to be paid $2.87MM each season by Detroit through 2024/25.
The veteran center had a falling out with Miami and was suspended for a game after knocking a piece of medical equipment onto the court following an argument with the coaching staff. He only played one more game for the Heat before he was moved to San Antonio in a salary dump.
The Spurs subsequently waived Dedmon's $4.7MM contract, and he signed a rest-of-season deal with Philadelphia for the veteran's minimum. However, he has yet to appear in a game with his new club after initially being sidelined with hip soreness.
Dedmon posted an abysmal minus-10.4 net rating with the Heat, and his effectiveness was clearly diminished in part due to plantar fasciitis in his foot. If he hopes to find a deal for more than the minimum this summer, the 33-year-old will have to prove he's healthy and can still contribute at a high level — he's running out of time to do so.
2022/23: $9.4MM
2023/24: UFA
Stock:

Up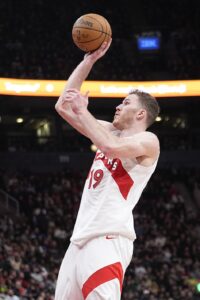 Acquired in a deadline deal with San Antonio, Poeltl has gotten off to a great start in his second stint with Toronto, looking very motivated in averaging 14.9 PPG, 9.2 RPG, 2.5 APG, 1.8 SPG and 1.7 BPG while shooting 69% from the floor and 56.1% from the free throw line through 12 games (28.4 MPG).
The 7'1" big man has provided a jolt in some much-needed areas. He has been particularly adept at finishing on offense and protecting the paint at the other end. Poeltl is also a strong screener and passer, which helps compensate for his lack of shooting.
The 27-year-old is expected to command a salary in the range of $15-20MM per year in free agency this summer. If Poeltl keeps playing at this level, the high end of that range could be within reach, similar to what Jarrett Allen signed a couple years ago with the Cavs (five years, $100MM).
2022/23: $8.5MM
2023/24: UFA
Stock:

Down
The younger Curry brother has been one of the league's top shooters since he started getting semi-regular minutes back in 2015/16, holding a career slash line of .475/.435/.865 in 426 games (206 starts, 24.7 MPG). However, he got off to a slow start in '22/23 following offseason ankle surgery, and is having a down year by his standards.
Curry has appeared in 49 of 67 games for the Nets with averages of 9.9 PPG, 1.8 RPG and 1.9 APG in 21.4 MPG. He's averaging his fewest points, rebounds and minutes per game since '18/19, when he was with Portland.
He's also shooting a career-worst 39.6% from three. It feels very weird saying that's a low mark, but Curry had never previously shot below 42.2% from deep.
The 32-year-old has always been a poor defensive player, but this is the first time in several years where it feels like his deficiencies on that end have outweighed what he brings on offense – the Nets have statistically been worse on both ends when he's on the court, with Curry posting a minus-2.8 net rating. The fit hasn't been ideal either, as they have a few too many players with similar skill sets.
I wouldn't be surprised if Curry gets a slight raise on his current deal if it's only for a year or two, but I would be a little surprised if he gets a raise and a three- or four-year contract. As a very undersized shooting guard (6'1″, 185 pounds), he's probably best suited for a bench role given his distinct strengths and weaknesses.