For the rest of the regular season and postseason, Hoops Rumors is taking a closer look at players who will be free agents or could become free agents during the 2023 offseason. We consider whether their stock is rising or falling due to their performance and other factors. Today, we're focusing on a handful of Bulls players.
---
2022/23: $7.4MM
2023/24: RFA
Stock:

Up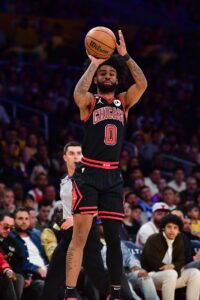 White is a tricky player to gauge because he's playing fewer minutes and taking fewer shots, so on the surface his numbers look worse. If you actually watch him play though, it's clear that he has improved in meaningful ways.
For example, when he entered the league he was basically a low-efficiency gunner who didn't provide a whole lot else. His ball-handling, decision-making and defense have all improved, and he has a much better feel for making plays within the flow of the game.
White, who was recently praised by head coach Billy Donovan, has seen his name has pop up in trade rumors the past couple seasons, but the fact that the Bulls held onto him through the deadline leads me to believe they'll give him a $7,744,600 qualifying offer to make him a restricted free agent.
Lonzo Ball might miss all of next season following a third left knee surgery, making guard depth a priority. White just turned 23 years old last month – I think they'll bring him back.
2022/23: $22MM
2023/24: UFA
Stock:

Neutral
Vucevic's counting stats in 2022/23 (17.5 PPG, 11.2 RPG, 3.3 APG) are virtually identical to last year's (17.6 PPG, 11.0 RPG, 3.2 APG), but he's scoring much more efficiently, mostly due to a career-high 58.7% on twos — he's averaging about the same amount of points on 1.8 fewer shot attempts per game.
The veteran center has always been a quality defensive rebounder, but he is limited in other aspects defensively, particularly when it comes to protecting the paint – among centers who contest five-plus shots at the rim, he allows opponents to shoot 67.9% on those looks, which is the second-worst mark in the league, according to NBA.com. Chicago's offense has been better when Vucevic is playing, but the team's defense is significantly worse.
It's hard to see Vucevic getting much more than his current $22MM salary from the Bulls or any other team. That said, he's more or less the same player he was when he signed the deal, just four years older, and obviously the Bulls value him, otherwise they wouldn't have traded for him a couple years ago. Maybe a short-term deal at a similar price could be in play – he will remain extension-eligible until June 30.
2022/23: $13MM + prorated minimum

2023/24: UFA
Stock:

Down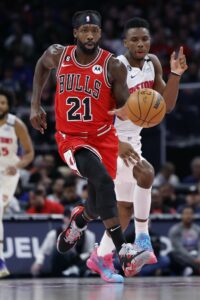 Beverley's free agency situation is strange. On one hand, the Bulls have gone 10-5 with him in the starting lineup – a very good mark, particularly for a team that has been wildly inconsistent in 2022/23.
He is an above average rebounder for a player his size (he's 6'1″), pulling down 5.9 boards in 28 minutes thus far with the Bulls, though that seems unsustainable (it would match his career high from '16/17). He has also done a very good job taking care of the ball, recording a 4.07-to-1 assist-to-turnover ratio with Chicago.
So why is Beverley's stock down? He is only shooting 34% from deep in '22/23 – 31.5% with Chicago thus far – after shooting 34.3% last season. His career rate is 37.4%, but it's a little concerning that he's been below average two years in a row, because he isn't much of a scoring threat otherwise (he's averaging 6.3 points per game, his lowest total since his rookie year in '12/13).
Three other factors are working against him. One, he's on his fifth team in under a year, having been traded three times before reaching a buyout agreement with Orlando. Second, he'll turn 35 years old this summer, so it's hard to see him getting more than a one- or two-year contract.
Finally, he lost his Bird rights when he was bought out, so the Bulls will be limited in what they can offer him – they could give him a 120% raise on his current minimum salary, which would be around $3.1MM, but otherwise they would have to dip into one of their exceptions (mid-level or bi-annual) to give him more than the minimum. I suspect they'll pursue a younger target with the MLE.
Long story short, there's no realistic way the Bulls can offer him anything close to the combined $13.8MM he made this season, and I definitely don't see another team approaching that figure.
2022/23: Minimum salary
2023/24: UFA
Stock:

Neutral
If you had asked me earlier this season about Green's stock, I would have said he was owed a raise on his minimum-salary contract – the Bulls have been better with him on the court each of the past two seasons. He brings a much-needed infusion of energy, toughness, and defensive versatility to a team that has been oddly apathetic at times.
The main reason his stock is neutral instead of up is his knee injury, which he has been slow to recover from. He underwent an arthroscopic debridement procedure in January, and it was initially reported that he was expected to miss about a month. Instead, he was out for about two-and-a-half months, and after playing two games last week, he's on the shelf again.
Donovan said on Sunday that Green has been dealing with discomfort the day after playing, which is troubling. Green punches above his weight due to his explosive athleticism, but he's only 6'4″ – hopefully this injury doesn't affect that part of his game, because he's a limited offensive player. Here's to hoping he makes a full recovery.