For the rest of the regular season and postseason, Hoops Rumors is taking a closer look at players who will be free agents or could become free agents during the 2023 offseason. We consider whether their stock is rising or falling due to their performance and other factors. Today, we're focusing on a handful of Central players.
---
2022/23: $13,906,976
2023/24: UFA
Stock:

Up
Lopez has been one of the NBA's best stories this season, rebounding from a mostly lost season in 2021/22 after undergoing back surgery (he played just 13 regular season games and 12 playoff games). He's having an outstanding year and has been a major factor in Milwaukee's league-leading 44-17 record, averaging 14.7 PPG, 6.7 RPG and 2.4 BPG on .508/.370/.766 shooting through 60 games (30.3 MPG).
The veteran center, who is one of the leading candidates for Defensive Player of the Year, has said he hopes to remain with the Bucks, and the interest is reportedly mutual. Lopez has definitely earned a raise, but given his age (he turns 35 next month), I'd be a little surprised if he gets more than a two-year deal.
2022/23: $37,948,276
2023/24: $40,396,552 (player option)

Stock:

Down
Middleton's stock is down primarily due to injuries, which have limited him to 20 games to this point. The Bucks have been very cautious with the three-time All-Star, as he's been coming off the bench lately and averaging his fewest minutes per game (21.5) since he was a rookie. However, despite the small sample size, it's worth noting that the Bucks have been terrific with Middleton on the court – he has a plus-9.7 net rating, per NBA.com.
A career 38.9% three-point shooter, Middleton is making just 29.9% from deep this season, which has hurt his offensive efficiency (the rest of his shooting numbers are very close to career norms). That seems more like an aberration than a long-term concern.
The remaining 21 regular season games and how he fares in the postseason will likely determine whether or not the 31-year-old decides to pick up his player option for '23/24. Let's not forget that Middleton averaged 23.6 PPG, 7.6 RPG, 5.1 APG and 1.5 SPG during Milwaukee's championship run a couple years ago — I would not be surprised at all if he bounces back from a disappointing season over the next few months.
2022/23: $1,563,518
2023/24: RFA
Stock:

Neutral
The 38th pick of the 2021 draft, Dosunmu had a strong rookie campaign, earning a spot on the All-Rookie Second Team after averaging 8.8 PPG, 2.8 RPG and 3.3 APG on .520/.376/.679 shooting in 77 games (40 starts, 27.4 MPG).
His numbers have been quite similar in year two, with the 23-year-old averaging 9.3 PPG, 3.2 RPG and 2.8 APG on .498/.316/.806 shooting in 60 games (49 starts, 28.1 MPG). Obviously the three-point percentage is down, which is unfortunate, and he hasn't necessarily progressed from a statistical standpoint like some second-year players do.
Advanced stats aren't very high on Dosunmu, and the Bulls have been better by a pretty significant margin when he's not on the court. While Dosunmu may not have made a second-year leap, I still like his defensive potential and he reportedly has a strong work ethic and team-first attitude.
Dosunmu met the starter criteria, so the value of his qualifying offer increased to $5,216,324. It will be interesting to see how his restricted free agency plays out.
2022/23: $5,200,000
2023/24: UFA
Stock:

Up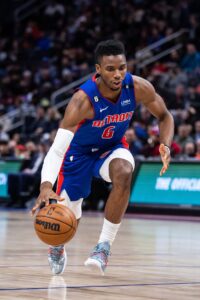 Diallo is challenging to evaluate because his strengths and weakness are more pronounced than most players. He is a non-shooting wing with pretty bad tunnel vision, which you would expect would make him ineffective in a league constantly looking for floor-spacers.
That isn't the case. The 24-year-old is one of the most athletic players in the NBA and he plays with a tremendous amount of energy. He utilizes those strengths to play strong defense, crash the boards, drive, and catch lobs, and he's been very effective at all of those things in '22/23.
The Pistons have an overall defensive rating of 117.6, which ranks 28th in the league. When Diallo is on the court, Detroit has the equivalent of the league's fourth-best defense. He is shooting a career-high 58.1% from the field in large part because he is converting 71.8% of his attempts at the rim, per DunksAndThrees.com – a better mark than many centers.
Sometimes Diallo's energy carries over into recklessness. He fouls too much and can be turnover-prone. Even if his game is polarizing, I think he deserves a raise, perhaps a deal in the range of $6-10MM per year.
2022/23: $1,846,738
2023/24: UFA
Stock:

Down
After averaging 9.6 PPG and 5.4 RPG on .428/.368/.716 shooting in 88 games (41 starts, 23.7 MPG) with Indiana from 2020-22, Brissett had an opportunity to establish himself as a reliable rotation player in a contract year. Unfortunately, that has not come to fruition.
The Pacers have been relatively weak at power forward all season. Brissett hasn't helped much. He's averaging 5.5 PPG and 3.4 RPG on .388/.333/.693 shooting in 49 games in '22/23, with his playing time cut back to 16.0 MPG. He has been a healthy scratch in seven of the last eight games.
Still just 24 years old, Brissett should land another (relatively small) deal in free agency — he's a solid rebounder and defender. But those shooting numbers are a problem, and his stock is definitely down compared to the past couple seasons.