For the rest of the regular season and postseason, Hoops Rumors is taking a closer look at players who will be free agents or could become free agents during the 2023 offseason. We consider whether their stock is rising or falling due to their performance and other factors. Today, we're focusing on a handful of Northwest players.
---
2022/23: $13.34MM
2023/24: $14.26MM player option
Stock:

Up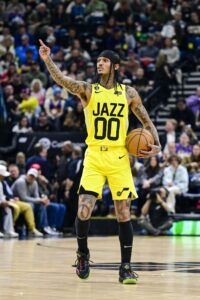 Clarkson is expected to decline his player option to land a long-term contract in free agency, which makes a lot of sense. He's averaging career highs in points (20.8) and assists (4.4) per game and has matched his career best in rebounds per night (4.0) while posting a .444/.338/.816 shooting slash line (.558 true shooting percentage).
The veteran guard will turn 31 years old in the offseason, so this might be his last chance to land a major multiyear payday. He is an all-around poor defensive player, but his play-making has improved this season, and his shot-creation ability is widely coveted.
I don't have a great feel for how much Clarkson might get in free agency. His representatives could point to the contracts signed by Anfernee Simons (four years, $100MM) and Jordan Poole (four years, $123MM guaranteed) last summer, for example – Clarkson is much older and has less upside, but his strengths, weaknesses and production are fairly similar to those players.
If I were a GM, I would be very hesitant to pay Clarkson that much money, but he has earned a raise on his current deal, that much is certain.
2022/23: $2.17MM
2023/24: UFA
Stock:

Down
A former first-round pick (No. 27 overall in 2020), Azubuike has unfortunately dealt with a few significant ankle injuries in his brief NBA career, which has impacted his development. Utah declined its fourth-year team option on the 23-year-old big man before the season started, sending a strong signal that he wasn't in the team's long-term plans.
Azubuike has only appeared in 26 games this season for an average of 5.9 minutes per contest. It's hard to get much of a read on someone who plays so little, but he is a limited offensive player who struggles at the free throw line (he shot 41.6% in four college seasons and is at 55.2% on very low volume in the NBA).
The remaining 17 games will essentially serve as an audition for Azubuike. How he performs — and if he gets minutes — could very well determine whether or not he's able to land a guaranteed contract in the offseason. The odds of that happening seem lower than 50/50 at the moment.
Naz Reid, C, Timberwolves
2022/23: $1.93MM
2023/24: UFA
Stock:

Up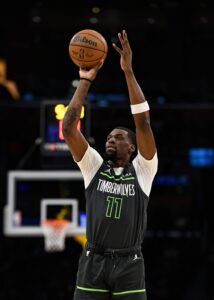 Reid's per 36 numbers have been quite consistent in each of his four seasons. So why is his stock up?
The primary reason is he's shown that his game is scalable, meaning his production doesn't suffer with more playing time. The 23-year-old is averaging 16.5 points, 7.0 rebounds, 1.4 steals and 1.0 block in 11 games as a fill-in starter (26.1 minutes), with the team going 6-5 in those contests. Playing well against reserves is one thing, but doing it over the course of a full game against starters is something entirely different.
Reid has slimmed down considerably since going undrafted out of LSU in 2019 and has shown that he is a quality backup center capable of spot starts. Something in the range of $8-11MM annually seems within reach — a massive increase on his current minimum-salary contract.
2022/23: $1.93MM
2023/24: UFA
Stock:

Down
I liked what I saw from Nowell last season and thought he should have gotten more minutes at times. He is shifty with the ball with a quick first step, and shows some nascent play-making ability.
Something has been off with him for nearly the entire '22/23 season, which is unfortunate because he had a big opportunity to establish himself after the Rudy Gobert trade freed up backcourt playing time.
Maybe that's part of the problem. He often looks like he's trying too hard and forcing the issue instead of letting the game come to him, often a sign of a player pressing. The steep decline in three-point shooting — from 39.4% last season to 29.3% in '22/23 — looks like another mental hurdle, as he hesitates at times even when he's wide open, instead of trusting himself and letting it fly.
Nowell is only 23 and on a minimum deal. He will get more than that in free agency, but probably not as much as he was aiming for before the season began.
2022/23: $1.84MM
2023/24: UFA
Stock:

Up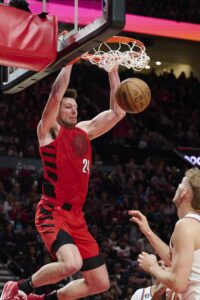 Another player on a minimum-salary deal, Eubanks plays within a clearly defined, limited offensive role of setting hard screens, rolling for the occasional lob, and crashing the offensive glass. His averages of 6.1 points, 5.1 rebounds and 1.2 blocks don't exactly jump off the page, though he is shooting an impressive 68.3% from the field through 62 games (19 starts, 19.9 minutes).
However, he is an above-average defensive player who moves his feet well for a big man, allowing him to switch onto smaller players better than most centers. The 26-year-old is also a solid rim protector, making up for his relative lack of height (he's 6'9") with powerful leaping ability and solid timing while challenging and blocking shots.
Eubanks isn't the type of player who is going to land a major payday in free agency, but I do think he's solidified himself as a quality backup due to his consistent energy and the self-awareness he brings of knowing his role. The Blazers have been better when he's on the court, which is always a positive sign. A multiyear deal in the range of $4-7MM per season seems pretty reasonable.