2:02pm: The NBA has suspended Morant for eight games without pay, the league announced today in a press release (Twitter link). However, that suspension will be retroactive to March 5, the first game he missed, so he'll be eligible to return to action this coming Monday (March 20).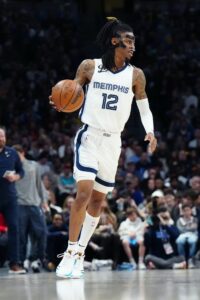 According to the NBA's announcement, its investigation did not determine that the gun Morant brandished in the Instagram Live video belonged to him or that he brought it to the night club. The investigation also didn't find that Morant possessed the gun while traveling with the Grizzlies or at any NBA facility.
"Ja's conduct was irresponsible, reckless, and potentially very dangerous," Silver said in a statement. "It also has serious consequences given his enormous following and influence, particularly among young fans who look up to him.
"He has expressed sincere contrition and remorse for this behavior. Ja has also made it clear to me that he has learned from this incident and that he understands his obligations and responsibility to the Memphis Grizzlies and the broader NBA community extend well beyond his play on the court."
After being away from the Grizzlies for multiple weeks, Morant may not suit up on Monday immediately upon rejoining the team, but the expectation it that his return will occur not long after that, tweets Chris Herrington of The Daily Memphian.
Morant's eight missed games will cost him nearly $669K in salary, tweets Bobby Marks of ESPN. His base salary for this season had been approximately $12.1MM.
---
1:54pm: Grizzlies star Ja Morant met with NBA commissioner Adam Silver in New York on Wednesday, reports Adrian Wojnarowski of ESPN (Twitter link).
While Wojnarowski doesn't offer any details on what was discussed during that meeting, he says Morant has left his counseling program in Florida and is moving closer to preparing for a return to the court. However, the All-Star guard will have to wait until the NBA announces the results of its investigation into his Instagram Live video from a Denver-area strip club, which is expected to happen soon, per Wojnarowski.
The NBA opened a probe into Morant after he posted a video in which he flashed a gun at a strip club. It was the latest in a series of troubling off-court incidents allegedly involving the 23-year-old, who punched a 17-year-old during a pickup game last summer, was accused of threatening a security guard at a Memphis mall, and was reportedly involved in a confrontation with members of the Pacers' traveling party after a January game.
After the league announced it was looking into the latest incident involving Morant, the Grizzlies said that he would be away from the team for two games, then four more. He'll miss his sixth game on Wednesday night when Memphis visits the Heat in Miami and it sounds like his status beyond that will be determined in large part by the outcome of the NBA's investigation.
Police also investigated the strip club video and didn't find enough evidence to bring any charges against Morant, but that doesn't necessarily mean that the league will close its own probe without disciplining the Grizzlies guard.
The NBA has a good deal of latitude to fine or suspend players for conduct detrimental to the league's best interests. The NBA's Collective Bargaining Agreement also includes language specifically related to firearms, so if there's evidence that Morant had a gun on him when traveling with the team or when at a team facility, that could result in a more punitive penalty.
Still, based on the tone of Wojnarowski's latest report, it doesn't sound like the league is preparing to drop the hammer on Morant.
Here's more on the Grizzlies' star:
While news of Morant entering a counseling program didn't break until this Monday, he took that step earlier in the month, shortly after announcing that he would be away from the team, sources tell Wojnarowski (Twitter link).
While he was in Florida undergoing counseling, Morant was communicating with his Memphis teammates via text and FaceTime video, per Joe Vardon of The Athletic. Vardon adds that Morant was accompanied to that "retreat-like setting" in Florida by a Grizzlies security officer.
In a separate story for The Athletic, Vardon spoke to a handful of Grizzlies players about their conversations with Morant and noted that they seemed to be operating under the belief that the star guard would rejoin the club, possibly very soon. Grizzlies forward Dillon Brooks said Morant has "made strides" and is "ready to come back."