5:43pm: Dunn has signed a multiyear deal, according to a press release from the Jazz.
---
1:54pm: The Jazz and guard Kris Dunn have agreed to a new contract that will cover the remainder of the season, according to Shams Charania and Tony Jones of The Athletic (Twitter link).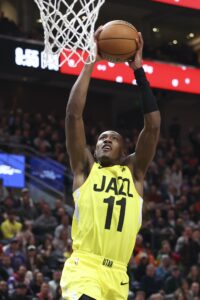 The news doesn't come as a surprise, since Dunn had emerged as an important rotation player in Utah during a pair of 10-day contracts with the team. His second 10-day deal expired on Monday night and players aren't permitted to sign a third 10-day pact with a single team, so the Jazz had to sign him to a standard contract in order to retain him.
The former fifth overall pick, who joined the Capital City Go-Go in the G League this season in an effort to make it back to the NBA, first signed with the Jazz on February 22, then inked his second 10-day contract on March 4.
During his time in Utah so far, Dunn has averaged 11.6 points, 4.8 rebounds, 4.8 assists, and 1.6 steals in nine appearances (22.2 MPG). A career 42.0% shooter from the floor and 29.9% on three-pointers entering this season, he has scored more efficiently with the Jazz, making 53.1% of his field goal attempts, including 36.8% of his threes.
The Jazz had three openings on their standard 15-man roster, so Dunn will become the team's 13th man once he officially signs his new deal. The club will soon be required to add at least one more player besides Dunn in order to adhere to the NBA's minimum roster requirements.
Assuming Dunn just signs a rest-of-season contract that doesn't extend beyond this season, he'll become an unrestricted free agent again this summer.