11:07am: Dunn's second 10-day deal with the Jazz is now official, per NBA.com's transaction log. It will cover Utah's next five games.
---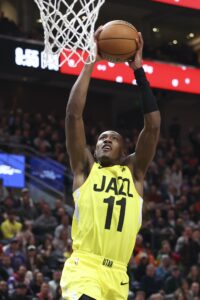 7:09am: Kris Dunn's 10-day contract with the Jazz expired after Friday's game, but the veteran guard isn't going anywhere. Utah intends to sign Dunn to a second 10-day deal, sources with knowledge of the situation tell Sarah Todd of The Deseret News (Twitter link).
Dunn, who joined the Jazz following a stint in the G League, immediately claimed a spot in the rotation during his first 10 days with his new team, helping to fill in for injured guards Collin Sexton and Jordan Clarkson.
The former fifth overall pick averaged 12.0 points, 4.5 assists, 3.8 rebounds, and 2.0 assists in 22.3 minutes per night across four appearances. A career 42.0% shooter from the floor entering this season, Dunn has scored more efficiently in his first few games in Utah, making 52.5% of his field goal attempts.
A player is permitted to sign up to two 10-day contracts with the same team in a given season, so at the end of his second 10-day deal, Utah will have to decide whether to sign Dunn for the rest of the season or let him walk.
Frank Jackson's 10-day contract with the Jazz also expired following Friday's game, but the team's plans for him aren't yet clear. Unlike Dunn, Jackson didn't play a regular role on his first 10-day deal, logging just five minutes in a single appearance.
Even after re-signing Dunn, Utah will have two openings on its 15-man roster, giving the club plenty of flexibility to audition other players 10 days at a time.