Jonathan Isaac's 2022/23 season is over after just 11 games, according to ESPN's Adrian Wojnarowski, who reports (via Twitter) that the Magic forward underwent season-ending surgery on Friday to repair a torn left adductor muscle.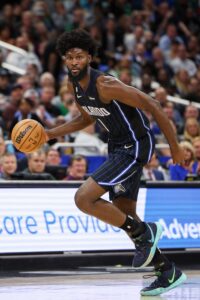 The Magic have put out a press release confirming the news (Twitter link). According to the team, Isaac felt discomfort on Tuesday and an MRI on Wednesday revealed the full extent of the injury.
It's the latest injury in what has been a brutal run of health luck for Isaac, who missed two-and-a-half seasons while recovering from a torn ACL that he suffered in the Disney World bubble in 2020.
The 25-year-old made his season debut on January 23, playing for the first time since August 2, 2020. However, a little over a month later, he has once again gone under the knife and faces a lengthy recovery process.
"Our thoughts are with Jonathan, whose fortitude in dealing with adversity is unique," president of basketball operations Jeff Weltman said in a statement. "Jonathan has worked extremely hard to return to the court this season and has demonstrated his impact on our team. We will be by his side as he focuses on the work ahead."
Prior to his ACL injury, Isaac was emerging as one of the NBA's most talented, versatile defenders, averaging 2.3 blocks and 1.6 steals per game in 34 contests (28.8 MPG) during the 2019/20 season. He flashed that defensive upside a little this season, but played a very modest role in his 11 appearances, logging just 11.3 minutes per night. He averaged 5.0 PPG and 4.0 RPG in his limited action.
Isaac is under contract for two more seasons beyond this one, but his $17.6MM cap hit for 2023/24 is only partially guaranteed (for $7.6MM) and his $17.6MM salary for '24/25 isn't guaranteed at all.
While it's possible the 6'11" forward will make a full recovery from this latest injury and reestablish himself as a reliable rotation player next season, he certainly can no longer be viewed as a lock to finish out his current contract due to his growing injury history.